Romney On NAACP Booing: If They Want More Free Stuff From The Government Vote Obama
Romney: If They Want More Free Stuff From The Government Vote Obama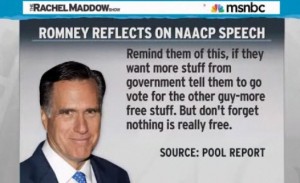 There has been a lot of speculation today about Mitt Romney's motivation for giving a speech to the annual NAACP Convention, and trashing Obamacare in the process. Romney himself said he "expected" to be booed for it, and in remarks first reported on The Rachel Maddow Show tonight, he demonstrated why. According to a pool report from Romney's Hamilton, Montana fundraiser, he brought up the booing, and told donors "if they (Obamacare supporters) want more stuff from government tell them to go vote for the other guy – more free stuff. But don't forget nothing is really free."
The quote is so tone-deaf, and such a naked appeal to the "welfare queen" brand of racial and class resentment, that it's almost hard to believe it's real. Here's how Rachel Maddow reported it on her show Wednesday night:
The quote comes from a pool report, which leaves open the slim possibility of a transcription error or two, but it is being reported as a direct quote. Greta Van Susteren posted an excerpt of the report with the fuller context, in which Romney brags about not attenuating his message to the NAACP crowd:
"By the way, I had the privelege of speaking today at the NAACP convention in Houston and I gave them the same speech I am giving you. I don't give different speeches to different audiences alright. I gave them the same speech. When I mentioned I am going to get rid of Obamacare they weren't happy, I didn't get the same response. That's ok, I want people to know what I stand for and if I don't stand for what they want, go vote for someone else, that's just fine. But I hope people understand this, your friends who like Obamacare, you remind them of this, if they want more stuff from government tell them to go vote for the other guy-more free stuff. But don't forget nothing is really free. it has to paid for by people in the private sector creating goods and services, and if people want jobs more than they want free stuff from government, then they are going to have to get government to be smaller. And if they don't want to repeal Obamacare they are going to have to give me some other stuff they are thinking about cutting, but my list takes Obamacare off first and I have a lot of other things I am thinking of cutting."
This will probably help Romney with certain segments of the Republican base, but the broader electorate may well react negatively to the contemptuous attitude he displays toward people who support health care reform, who simply want the insurance that they pay for to actually cover them and their loved ones when they need it to.
It will also give the press, and the former Massachusetts Governor's opponents, a chance to remind independent voters that Mitt Romney actually does give different speeches to different audiences. To his donors, people who favor government health care reform with an individual mandate are freeloaders, while he tells the people of several years ago that government health care reform with an individual mandate eliminates the freeloaders:
As I noted on Twitter earlier this evening, the President's schedule is suspiciously empty tomorrow. Given the amount of attention (most of it not good) that Romney's speech has been getting today, a surprise drop-in to the NAACP convention by the President tomorrow would provide a most beneficial contrast.
Follow Tommy Christopher (@TommyXtopher) on Twitter.
This is an opinion piece. The views expressed in this article are those of just the author.