Rudy Giuliani Tells Fox and Friends: 'Ron Paul Is Just A Complete Distraction'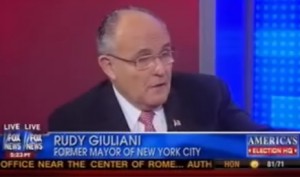 Former New York Mayor Rudolph Giuliani made a quick appearance on Fox and Friends Thursday morning and rattled off his thoughts on almost the entire field of GOP candidates, although he entirely ignored Michele Bachmann and had to be pressed on Mitt Romney.
Giuliani pointed out that he wasn't supporting any GOP candidate as of right now. He said that he's known Newt Gingrich for a long time, is close friends with Rick Perry, and is confused as to why Rick Santorum doesn't do better. While he has a problem with Jon Huntsman's foreign policy, he still respects him. He then moved on to Ron Paul.
"Ron Paul, to me," Giuliani said, "is just a complete distraction."
The hosts noted that Giuliani hadn't mentioned Romney. He said he didn't like how the former Massachusetts governor had gotten negative so early.
"It reminds me of what Mitt did in '08. He attacked me, he attacked McCain, he attacked Huckabee. Whoever was out front, Mitt would attack — sometimes personal attacks, sometimes these ads about family and all this other stuff. So I think this could be hurting him. This is a Republican primary, they don't want to see a Republican savaging another Republican."
Giuliani then got into the work he did with Gingrich in the early 90s, helping with the crime bill at the behest of President Bill Clinton. "I worked with Newt on the crime bill," Giuliani said. "Newt helped President Clinton pass the crime bill."
At the end, Giuliani drew the conclusion that it was still a wide-open field. "I don't see why Newt can't get elected," he said. "[But] I wish Perry and Santorum would have more of a chance."
Watch Giuliani's entire interview below, courtesy of Fox News:
Have a tip we should know? tips@mediaite.com