Shep Smith, Carl Cameron Push Back Against Accusations of Bias Against Candy Crowley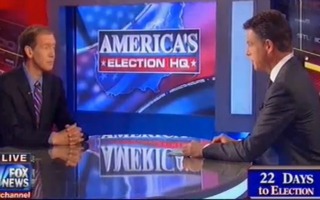 On Monday, Fox News Channel's Shepard Smith and Carl Cameron discussed the dynamic they expected to see in Tuesday night's town hall debate between the presidential candidates and the audience. In the process, they defended CNN anchor Candy Crowley who is slated to moderate the debate and is already facing criticism from both members of the media and the campaigns of President Barack Obama and Mitt Romney. Cameron and Smith said that Crowley knows the issues and the candidates well and the only bias she was likely to show was that which favors the American voter.

RELATED: Both Campaigns Concerned Over Candy Crowley As Debate Moderator
In a discussion about tomorrow's debate, Cameron said that both candidates were unlikely to be able to evade questions relating to specifics about their policies because they will come directly from voters. He noted that if the candidates try to evade the questions, Crowley may step in to demand specifics.
"I don't know Candy Crowley that well, but I've been watching her for 30 years and everybody in this business seems to think she is as fair and as smart and as looking for facts as anybody we know," Smith said.
"I've ridden in a lot of buses and planes next to Candy Crowley in campaigns past," said Cameron. "She knows them. She's well-mannered. She's polite. She's a consummate pro. If the candidates try to spin these questions out, she has said on her air that she will try to draw out more specificity on behalf of American voters."
Cameron said that criticism of her performance is all but inevitable, as it has been with past debate moderators. "Hopefully Candy's bias will be betrayed on behalf of, sort of, educating more voters," Cameron concluded.
Watch the clip below via Fox News Channel:
> >Follow Noah Rothman (@Noah_C_Rothman) on Twitter
Have a tip we should know? tips@mediaite.com