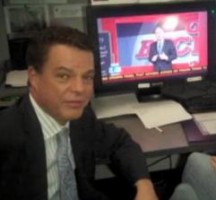 The most recognizable news personality on Fox News, Shepard Smith, is profiled today by Howard Kurtz for The Washington Post. And as the Fox News' opinion hosts permeate the usual discussion about the network, Smith has continued to stick to what he does best.
Kurtz asked Smith about his recent apology on-air for having a non-fair and balanced moment during an interview with then-candidate for New Jersey Governor Chris Christie. "I came off looking condescending," said Smith. "I handled it poorly."
Smith's boss, SVP of news Michael Clemente, praised the anchor. "He sort of wakes up with the curiosity to find out what's going on and brings that energy home to the viewer," he said. "He gets very excited about car chases…He happens to be a nice-looking guy as well — good pipes, he's got the whole tool kit."
Of course, he's got something else as well – the ability to go off script, or make a mistake and joke about it candidly. You never know what you'll get – especially during his 3pmET hour.
But while Smith is objective, he doesn't hold back with commenting occasionally on topics (especially during breaking news situations). And his comments have drawn heat from regular conservative FNC viewers, while those on the left often bash the network as a whole. Smith puts it to a sports analogy:
Smith, whose office is festooned with Ole Miss pennants and paraphernalia, draws an analogy involving his alma mater and its rival, Louisiana State University. "Because I love Ole Miss, I hate LSU," he says. "I want them to lose every game in every sport until the day I die. I might say in a fit of passion I hope it burns to the ground — but that doesn't mean anything.

"That's how people are with Fox. They decide that Fox is the thing they love or the thing they hate."
But besides the hard news focus, Smith's lighter side – an appearance on The View, a new site on Foxnews.com – has been on display recently as well. It does seem that there have been a lot of Shepard Smith profiles of late, and there's been a noted push to get him out in the media as an alternative face for Fox News. It serves the network well to point to Smith – who has the charisma of its opinion hosts but maintains the objectivity – while others, like the White House, are unhappy with Bill O'Reilly, Sean Hannity and Glenn Beck.
Here's the latest behind-the-scenes video from Shep's site:


—–
» Follow Steve Krakauer on Twitter
Have a tip we should know? tips@mediaite.com