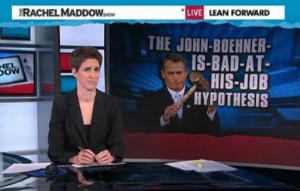 Last night MSNBC's Rachel Maddow
posited a hypothesis that she seemed to think would come as a surprise to her audience: Speaker of the House John Boehner "is really bad at his job." The most recent evidence of her theory? Boehner's recent dismissal of government job losses under the Obama Administration, or as Maddow summed up by saying "John Boehner has gone from 'where are the jobs?' to 'job losses? so be it'."
In the following segment, Maddow proceeds to bullet point what she deems to be evidence of the Republican leadership since taking over the the House earlier in the year: the "Constitution Reading Failure"; the "Swearing-In Failure": the "Constitutional Authority Failure"; the "Cu-Go Failure"; the "Committee Attendance Failure"; and the "Jobs, Jobs, Jobs Failure." And she was just getting started, before bringing on like-minded guest Ezra Klein to discuss Boehner's failures.
Klein, however, argued that becuase he didn't like what the Republicans were doing, we should be happy that Boehner's alleged incompetence since "it makes bad policy go through more slowly." But Maddow chose not to celebrate what she deemed to be the GOP's failings in the House, saying to her guest "If you took a value-neutral approach to what the Republicans are doing? You could judge even in your analysis that their incompetence is showing."
While we don't always 100% agree with the political positions of Maddow and her programs, we are stated fans of her logical and dispassionate analysis — she very often makes sense, and in today's landscape of opiniotainment, for that she should be lauded. But we do wonder how one should reasonably expect to believe that a "value-neutral" approach to the Republicans is something that has real meaning on a show that so consistently and effectively tears into one side of the political divide. The critique of Boehner would be a lot more interesting if the program even offered a more balanced and "value-neutral" approach instead of a one sided point of view.
Have a tip we should know? tips@mediaite.com
Colby Hall - Founding Editor