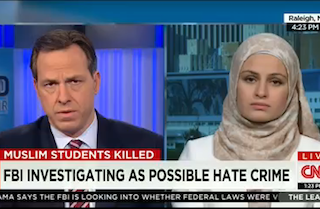 Following her emotional appearance on Morning Joe earlier today, Dr. Suzanne Barakat, sister of one of three Muslim students shot and killed near the University of North Carolina campus in Chapel Hill this week, visited CNN's The Lead with Jake Tapper. There, she continued to label the shooting as one motivated by hate and described as a symptom of a larger anti-Muslim movement in this country.
"It has been tremendously heartwarming to see the outpouring of love and support," for the victims of the shooting, Barakat said, especially in an time when it is "open season against Islam, Muslims in Washington, Muslims in the general media, dehumanizing Muslims in movies like American Sniper."
Barakat's reference to the Oscar-nominated Clint Eastwood film echoes the criticism of figures like Michael Moore and Bill Maher, who have noted Navy SEAL Chris Kyle's use of the word "savages" to describe Iraqis.
After President Barack Obama finally addressed the shooting in statement today, Barakat said no one from the White House has yet reached out to her directly, but said, "I hear they intend to and we very much appreciate it." The Justice Department and FBI also announced Friday that they would be investigating the triple murder.
"Had roles been reversed and the man was Muslim, was of Arab descent, was of South Asian descent, this would have immediately been labeled an act of terror," Barakat said later. "I haven't heard anyone use the term terrorist here, but why the double standard? He has terrorized our families, he has terrorized our lives, he has terrorized our community."
Asked by Tapper what she will consider justice in this case, Barakat answered, "Justice means making sure that this never happens again. Making sure that Muslims are respected, are protected, are cared for and are not left to live in fear."
She added, "We want to make sure that what comes out of this is awareness, is a spread of love."
Watch the full interview below, via CNN:
[Photo via screengrab]
— —
>> Follow Matt Wilstein (@TheMattWilstein) on Twitter
Have a tip we should know? tips@mediaite.com