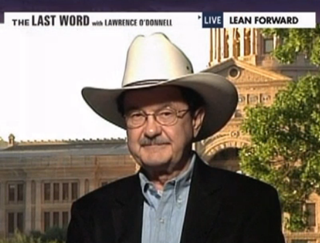 Texan talk radio host Jim Hightower has emerged as a regular source for Gov. Rick Perry commentary since the latter launched his presidential campaign, not the least because he has some experience running against him. On The Last Word tonight, Hightower explained that the reason he lost to Perry in an agriculture commissioner election was really because his opponent in practice was Karl Rove, and that Perry himself is actually fairly "testy" and "thin-skinned": "he puts the 'goober in gubernatorial.'"
Host Lawrence O'Donnell first asked for a quick rundown of Hightower's experience in campaigning against Perry– a victory Hightower refused to credit Perry for. "My opponent back then wasn't Rick Perry, it was Karl Rove!" Calling Perry an "inept campaigner," Hightower argued that Rove kept Perry away from the cameras and invested money in "ads trashing me." He had equally low expectations for Perry at tomorrow's GOP presidential debate.
"He's testy, he's thin-skinned, not a particularly nice guy," he argued, though added that those traits weren't as relevant as his record. "What kind of governor has he been?" he asked, later answering himself: "a corporate toady… this guy has put the 'goober' in 'gubernatorial' in the past ten years as governor."
It's not exactly a new line, as far as the relationship between Hightower and Perry goes– in fact, Hightower used it on Hardball last month, in a segment in which it was overshadowed by several other quips from Chris Matthews and company. But as part of a broader trashing in which he took swipes at Rove (rumored to not be exceedingly friendly with the Perry camp nowadays, rumors which Rove denies) and seemed little concerned about Perry's debate potential, it's quite the one-liner.
The segment via MSNBC below:
Have a tip we should know? tips@mediaite.com