'That Is Completely False': Kirsten Powers And Conservative Guest Battle On Fox Over Obama's Budget Plans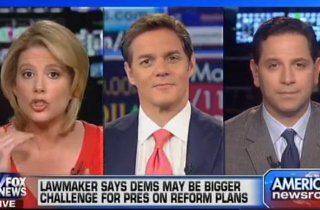 During an America's Newsroom political panel on Fox today, liberal contributor Kirsten Powers and her conservative colleague Tony Sayegh got into a pretty tense argument over President Obama's fiscal reforms and whether he can bring together both parties for a new plan.
Towards the end of the discussion (around 5:00 into video), Sayegh suggested that Obama has yet to fully endorse a reform plan to avoid the so-called "fiscal cliff," which elicited a loud sigh from Powers, who clearly objected to such a characterization.
"Kirsten has steam coming out of her ears," host Bill Hemmer joked after Sayegh finished saying Obama needs to endorse an "actual plan" like the Simpson-Bowles budget plan.
"How much more of an endorsement of a plan can you make than putting out a budget and putting out a fiscal cliff plan?" Powers asked. "Go to WhiteHouse.gov and find his fiscal cliff offer."
"Go to a Washington Post editorial that says he's not been detailed enough," Sayegh interrupted.
"I don't care what the Washington Post says!" Powers shot back.
"Well, you're pretty left-of-center, Kirsten," the conservative radio host replied, prompting Powers to lean forward and take a more stern tone with her co-panelist.
"Does he or does he not, on his website, have a proposal for his fiscal cliff deal that states these things?" she said. "That's endorsing a plan. Stop saying he hasn't endorsed it. it's in his budget. it's just bizarre."
"The Washington Post says he has not been specific enough, as of yesterday's editorial," Sayegh reiterated.
"You keep saying that he has not endorsed a plan, that is false," Powers concluded. "Completely false."
Watch the full segment below, via Fox:
— —
>> Follow Andrew Kirell (@AndrewKirell) on Twitter
Have a tip we should know? tips@mediaite.com