The Five Blasts The Media For Treatment Of Paul Ryan: 'Disturbing,' 'Propaganda'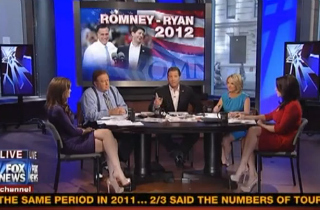 The four conservative fifths of Fox News' The Five went hard after the media Monday afternoon for its "attacks" on Republican VP nominee Paul Ryan, singling out CNN's Candy Crowley, MSNBC's Andrea Mitchell, CBS's Bob Schieffer, and MSNBC's Rachel Maddow for their various statements or omissions regarding Ryan in the wake of his candidacy.
The group took exception to Crowley's claim that adding Ryan to the GOP ticket might just be a "death wish," with co-host Eric Bolling describing her quote as a "disturbing" example of the media breaking from "straight reporting." Lone liberal panelist Bob Beckel disagreed, saying that Ryan is, indeed, a potential issue for the GOP in Florida given his views on Medicare could potentially alienate key voters in Florida.
Turning its attention to MSNBC's Mitchell, the group blasted the host for her weekend claims that a Ryan VP selection is "not a pick for suburban moms, this is not a pick for women." Co-host Andrea Tantaros was the most offended, saying that "Andrea Mitchell bills herself as an anchor, not a pundit or an opinion person, but as someone who is supposed to be a straight news journalist. She is not. She's a propagandist. To say this is bad for women, a blanket statement that is not news — that's propaganda."
The group then debated whether CBS's Schieffer had purposely edited out (and posted to only the web) what Bolling believes to be Paul Ryan's best answer from the 60 Minutes interview conducted over the weekend. Co-host Kimberly Guilfoyle characterized the edit as "fabrication, shape-shifting content to suit the world and political views they have, which is misleading and deceptive. You can't call it journalism if that is what you are doing."
Beckel defended CBS, noting that plenty of sound bites get cut out of pre-taped interviews: How many hours or time was cut out of that piece? They probably filmed half-an-hour to get that piece. They edited that out — so what?"
"I don't dispute the parts that you like were not completed or put in there," Beckel added, taking a shot at his conservative co-host.
Bolling then mocked MSNBC's Maddow for being offended by Romney's backdrop choice, describing her as "an anchor on NBC, I can't remember her name, she has short hair. She had a problem with Mitt Romney announcing Paul Ryan on the USS Wisconsin. She said it's a backdrop he shouldn't use because neither one has military experience."
"Pull up the screen of President Obama using the military as a backdrop," Bolling called for a composite shot of the president in front of a military background. "Three occasions of Obama doing this."
"Here's the difference," Beckel argued back, "[Obama] is commander-in-chief."
Watch below, via Fox News:
— —
>> Follow Andrew Kirell (@AndrewKirell) on Twitter
Have a tip we should know? tips@mediaite.com