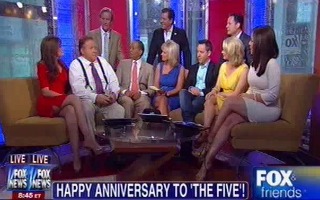 The cast of The Five appeared on Fox & Friends on Monday to celebrate their one year anniversary. There, the cast recounted many of the past year's notable events and discussed why they feel the chemistry among the rotating hosts makes the show a success.

RELATED: Monday Ratings: The Five Reigns Over All Of Primetime In Demo
On Monday, the seven rotating hosts of The Five – Kimberly Guilfoyle, Bob Beckel, Juan Williams, Eric Bolling, Greg Gutfeld, Dana Perino and Andrea Tantaros – took to the Fox & Friends couch to discuss what to expect during this week's anniversary festivities.
"Congratulations," said co-host Steve Doocy introducing the gang. "One year ago this week The Five premiered and you've broken all expectations."
After noting that it is rare that The Five ever has two liberal hosts on at the same time, Beckel threw his arm around William and affectionately said that they represented the only two liberals in the entire News Corp. offices. He also sang the chorus from Paul McCartney and Stevie Wonder's Ebony And Ivory for good measure.
"I'm just happy that we are not on as a morning show because of the melee that has happened trying to get us on set," said Tantaros.
Co-host Brian Kilmeade introduced a montage of clips to showcase some of the "best of" moments in The Five's first year of broadcasting.
"The show is a hit," said Beckel after the montage concluded. "It's the concept of the show. I think the idea of not having a single anchor and not having guests and just having a free-for-all. Believe me when I tell you, it's a free-for-all. I mean, we have a 10 o'clock call in the morning, and I don't remember ever going on script."
"What it's really about is we are all good friends and we all get along," said Bolling.
Williams said that the most memorable moment was when Bolling rescued Beckel off-set as he was "choking on a shrimp."
Fox News anchor Bill Hemmer appeared to tease the 9 a.m. hour of news where he congratulated the hosts on their success. Kilmeade asked if him if planned to have the cast on his program. "Probably not," replied Hemmer.
Watch the segment below via Fox News Channel:
> >Follow Noah Rothman (@Noah_C_Rothman) on Twitter
Have a tip we should know? tips@mediaite.com