The Five Panel Tackles Fmr. DC Mayor Marion Barry's 'Asians And Their Dirty Shops' Comments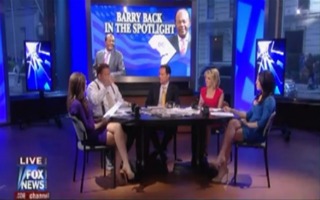 The Five panel took on former Washington D.C. Mayor Marion Barry's recent comments in which he said that his community needs to "do something about these Asians and their dirty shops." The Five panelists scolded Barry but Andrea Tantaros sees a racial disparity in the way the media is handling the comments. She said that had a white mayor made the comments, they'd have been national news and the disparity in the coverage "is a message that goes bottom up right to the White House."
RELATED: Former DC Mayor: 'We've Got To Do Something About These Asians And Their Dirty Shops'
"The former D.C. mayor now a councilman but it doesn't look like he really likes Asians," said Kimberly Guilfoyle. "This week he said, 'we got to do something about these Asians coming in and opening up businesses and dirty shops. They ought to go. We need African American business people to take their places, too.'"
Guilfoyle then introduced a clip of Barry doubling down on his comments from Tuesday. "We're not going to have businesspeople who come into Ward Eight, pull service, dirty our facilities, taking money out of our community, not contributing to our community at all – that's going to change," said Barry.
Bob Beckel responded to the clip saying, "Marion Barry is a friend of mine."
Beckel continued, "In the black community – in Washington in particular – but in virtually any minority community, you're going to find that most of the small shops – and most people shop, they don't shop in big shopping centers, they shop in these little stores where prices are jacked way up. And it was for a long time that they were owned by Jewish merchants, which was a big rift between blacks and Jews, and now the Asian's moved in."
Beckel said that he had said to Barry on previous occasions that he should advocate and advance black ownership of these small shops located within their communities. "Their argument is, and it's not a bad argument, is that it's tough for them to get financing." Beckel stopped short of defending Barry's comments, saying "Marion, you know better. Man, how many times…"
"I actually don't think he does know better," said Dana Perino. "Because he's – it's not the first time that he's said something like this. And other African American leaders, or people in power, have said similar things."
Perino went on to paraphrase a recent column by Michelle Malkin on the subject. "It's not their fault that the crime is so high, the thugs are the reason that the crime is so high," said Perino. "Plus, the data shows that Asians actually have decreased in number in Ward Eight, probably because they're moving out probably because of the violence."
Fill-in host Brian Kilmeade took the opportunity to clarify Barry's statements, saying that he believes that the Asian-owned shops are not contributing to the community and thus incurring the anger of black leaders like Barry. "The in-artful way in which he expressed it, Kimberly, I was shocked at for a guy with his experience," said Kilmeade.
Andrea Tantaros thought that there was a racial component to the story and, if a white or Hispanic former mayor had made them, the outcry would be much larger. "Think about what he's really saying: Let's get rid of hard working immigrants in this country," said Tantaros. "Let's get rid of people who are opening up business, trying to make a living for their families… this is a message that goes bottom up right to the White House."
Brain Kilmeade concluded the segment asking the question on everyone's minds: "This guy just won a primary," said Kilmeade. "Who's running against Marion Barry and losing?"
Watch the segment below via Fox News:
Have a tip we should know? tips@mediaite.com