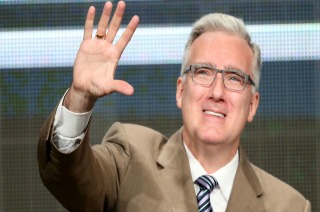 As if Keith Olbermann's return to television was not highly anticipated enough, The Hollywood Reporter has devoted much of its print and online space in recent days to promoting the former sports commentator turned political flamethrower turned back to sports broadcaster. A series of glowing features in THR following a multi-day interview of the former MSNBC and Current TV anchor are raising eyebrows – primarily for the lack of any real skepticism about ESPN's decision to put Olbermann back in front of a camera.
"If I wanted to be doing politics, I would still be doing politics," Olbermann said in July after a report stated that the former political commentator is contractually forbidden from discussing politics on his newly revamped ESPN2 show. Olbermann pushed back on that report saying that he can talk all the politics he wants. It would have been interesting to hear who exactly had offered him the opportunity to talk politics on television.
And, while the veteran sports broadcaster spent much of his time with THR reporters discussing athletics, Olbermann appeared to relish the opportunity to suggest that he will not shy away from political commentary. Olbermann told THR that he would like to interview Presidents George W. Bush and Barack Obama… about sports, of course.
In a feature in THR on the "drama" behind Olbermann's return to ESPN, THR touches on what it calls Olbermann's "peripatetic" employment history. The entertainment publication noted Olbermann's firing from Fox Sports in 2001, his suspension and eventual departure from MSNBC in 2011, and his short-lived stint on Current TV. But the feature is primarily focused on what a prophetic, capable and sometimes misunderstood, broadcaster Olbermann has always been
"Keith was always trying to push us to go further, trying to push us into uncomfortable areas," said Olbermann's former ESPN producer John Walsh. "Although that tension doesn't feel healthy at the time, when you look back upon it, you realize how healthy it was."
The ESPN2 show's mission, THR reports, is to reconnect the audience with "the erudite, mischievous and insightful sportscaster." Translation: this is not a show about sports, it's a show about Keith Olbermann.
"Olbermann will mix commentary, interviews and sports highlights and also will include a revival of the "Worst Persons in the World" segment that was a staple on Countdown," THR reports. There will also be a "This Day in Keith History" feature which, you guessed it, will feature Olbermann's gentle mockery of the prior incarnation of his sports show.
This is all fine as a show concept and for a press release about the new show but it reflects a larger issue about The Hollywood Reporter's coverage of Olbermann. Over the past two years, they have become the place to turn for soft, fawning pieces that purport to provide his "side" of every controversy, lawsuit and battle in which he finds himself involved. One might expect that of a liberal blog clamoring for Olbermann's return to the airwaves, but The Hollywood Reporter?
For example, THR gave Olbermann the space to call his former boss, former Vice President Al Gore, a "clod" and express his disdain for sports figures like Alex Rodriguez and Lance Armstrong. "Sorry about your testicle," he joked to the disgraced cyclist who lost a testicle to cancer.
In fact, THR has been Olbermann's preferred venue to leak exclusive details about his career and his problems with his employers for years.
"I am pleased that I'll be running the election coverage on Current, following this Tuesday's New Hampshire primary," Olbermann told THR exclusively in January, 2012.
This announcement followed a report in THR in which Olbermann vented about Current not touting him as the network's flagship personality in their coverage of the GOP presidential primaries. "I was not given a legitimate opportunity to host under acceptable conditions," Olbermann told THR after leaking an internal memo to them detailing his concerns."They know it and we know it. Telling half the story is wrong."
In spite of THR's most recent glowing preview of Olbermann and his attempt to "repair some of the damage" he inflicted last time he hosted an ESPN show, there were clear signs even from the THR piece of possible storm clouds on the horizon.
"I never took seriously the idea of deference [to management] just because they were my employers," Olbermann told THR. "It's like, 'Well, but if you have the wrong idea and I have the right one, what difference does it make where it came from?'"
So how does ESPN brass feel about that? As Current TV emails revealed during Olbermann's tenure at the network, abandoning "deference to management" can take on a much more sinister meaning when talking about this host. But, from a media perspective, its hard to see how THR failed to include any of the reporting on how horribly Olbermann apparently treated his staff, as opposed to his bosses, over the years.
There are few who would challenge the notion that Keith Olbermann is a talented broadcaster, but The Hollywood Reporter's coverage of him, which culminated in this most recent profile, would lead you to believe that all of the conflicts have been someone else's fault and that he has been a principled lamb taken out to slaughter by big bad media companies. That is a notion that a mainstream publication like THR should challenge, but, based on the totality of its Olbermann coverage, likely will never do.
____
> >Follow Noah Rothman (@NoahCRothman) on Twitter
Have a tip we should know? tips@mediaite.com