The Plot Thickens On Secret Service Prostitute Scandal: Five Military Members Now Involved
Five Military Members Now Involved In Secret Service Prostitute Scandal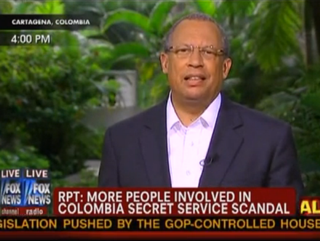 The Summit of the Americas began for the United States with a bizarre and embarrassing story about Secret Service agents and their struggle with overpaying prostitutes. There are several versions of the story, Fox News' Wendell Goler reports, but none appear to be completely accurate. What the media does know? 12 Secret Service agents were sent home from Colombia and replaced in full, along with 5 military personnel, and the President's security was never compromised.

RELATED: 12 Secret Service Agents Relieved Of Duty Over Alleged Misconduct In Colombia
Goler reported to Fox News' Gregg Jarrett live from Colombia after White House Press Secretary Jay Carney delivered some updates on the story that Goler admitted didn't really help: "this is a matter that is being looked into in an appropriate manner," Carney told the press. The story of "boys behaving badly, and the problem is some of the boys are secret service men," and Goler put it, now involved twelve Secret Service agents and five military personnel. The twelve were sent home on Thursday and immediately replaced, and the President's safety never jeopardized. In addition, the five were "sent to their quarters after an incident involving one or more prostitutes."
Fox News' Ed Henry corroborates the report: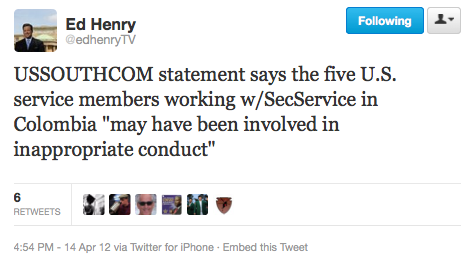 Goler added that many reports floating around were wrong– including the one that a Secret Service agent "complained of being charged extra," or that there were eleven prostitutes. Thankfully, Goler reports that the scandal has done little to derail the summit.
The report via Fox News below:

Have a tip we should know? [email protected]