The Young Turks' Cenk Uygur Says Chris Christie 'Protecting His Own Fat Ass'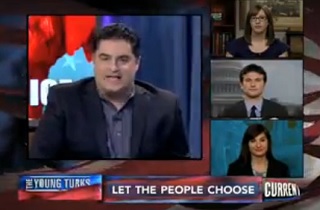 Governor Chris Christie (R-NJ) has instantly become everyone's favorite XXL piñata over his decision to hold a special election in October to fill the seat vacated by the recently, sadly deceased Sen. Frank Lautenberg, rather than having to face Newark Mayor Cory Booker (D-Krypton) in November. Add The Young Turks host and self-proclaimed "fat New Jersey-American" Cenk Uygur to the list, as he told viewers, Tueday night, that "Chris Christie doesn't give a damn about the people of New Jersey getting to vote a couple weeks earlier," adding, "All Chris Christie cares about is protecting his own fat ass."
Governor Christie had several options to choose from in deciding how to fill Lautenberg's seat. He could have appointed a replacement to serve until the seat's term was up in 2014, which would have likely resulted in a court challenge, or he could have scheduled a Democratic primary, and appointed a replacement until November's general election. Or he could do what he did, which was to schedule a Democratic primary for August 13, and a special election for October 16. Many Republicans are angry with Christie for not appointing a Republican to fill the seat until 2014, giving the GOP another vote in the Senate, and an advantage in maintaining the seat in the midterms.
Democratic supporters, meanwhile, are accusing Christie of trying to protect himself by avoiding a November showdown with super-popular Newark Mayor Cory Booker, which, the theory goes, would juice Democratic turnout and endanger Christie's reelection chances. Both sides are also attacking Christie over the cost of the special election. During his panel discussion, Cenk did just that, asking "Doesn't this mean Christie should shut his fat mouth about being a fiscal conservative, from this day forward? Now that he's going to throw $24 million in the garbage for this special election, for his own political purposes?"
He went on to blast Christie for what he called a "ridiculous lie."
"Chris Christie doesn't give a damn about the people of New Jersey getting to vote a couple weeks earlier," he said, adding, "All Chris Christie cares about is protecting his own fat ass."
"As a fat New Jersey American," Cenk concluded, "I know I live in a glass house, and brother, I'm calling you out on it."
To be fair, Cenk also called out Democrats for their satisfaction with Christie's decision, which all but guarantees Cory Booker the seat, and he's right that, philosophically speaking, the right thing to do would have been to hold the special election in November. But Cenk, my friend, you're at a 12, and you need to be at a 6.
First of all, just because we're heavy guys from Jersey doesn't make it okay to blast Christie over his weight. Come on, man, he's trying. Let's wish him well on that.
But more importantly, Christie's motives may well be political, but they appear to have nothing to do with his own (size-neutral) ass. Christie has a 34 point lead with likely voters. As the panelist pointed out, there was a greater danger that Christie voters voting the straight ticket could have swamped Cory Booker, but even if that didn't happen, Christie isn't about to sweat a 34 point lead. The only thing that could possibly eat into a lead like that would be, say, appointing a Republican to that seat until 2014.
In the best possible light, Christie tried to honor voters' intentions by making the decision that best assured a Democrat would replace Lautenberg. At worst, or at the same time, he helped out a lot of down-ticket Republicans who would have had trouble running into the Cory Booker buzz-saw. As a weight-challenged New Jersey-American, I'm fine with it, and I'm pretty sure if Christie had put Booker on the ballot in November, Democratic supporters would be screaming just as loudly.
Have a tip we should know? tips@mediaite.com