Touré: 'Blacks Are Disproportionately Targeted' For Marijuana, Even Though Whites Smoke More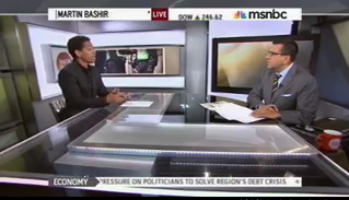 On Wednesday's edition of MSNBC's Martin Bashir, the eponymous host discussed lawmakers' recent attempts to end the New York City Police Department's practice of "stop-and-frisk," which has been criticized as disproportionately focused on young black and Latino males. MSNBC contributor Touré made the case that marijuana possession arrests overtly harm minority communities and ruin lives, even though statistics show that blacks use marijuana less than white people.
"There were almost 2,000 stop-and-frisks per day in New York last year," Bashir said. "We know that lots of these lead to arrests for possession of marijuana … and now New York City also happens to arrest more people for marijuana possession than any other city in the country — almost 51,000 arrests last year alone. Now Governor Andrew Cuomo has offered a proposal to reduce the penalty for possessing small amounts. Is that proposal a welcome change?"
Touré explained that just having a small bag of marijuana in your pocket, without smoking it in public, can make you a criminal. This will forever brand you in a negative light, he said:
Every time you go to apply for a job you have to check the box that you are a convicted felon and that you can be discriminated against in terms of public housing, in terms of government aid. So now your entire life has been changed. You will struggle to find a job, it's impossible to get into higher education. You are branded a criminal for life because you smoked a little marijuana.
– RELATED: Why Won't President Obama Support Our Right To 'Choom' A Doobie Like He Did?
Bashir clarified that statistics show that young white males use marijuana more than young black males. Toure suggested that this shows that the drug war unfairly targets minorities:
The studies show that blacks and whites and asians use and sell drugs at equal rates … very similar rates across the board. There's no reason why blacks should be getting disproportionately targeted for this and whites being allowed to experiment with marijuana and go on with their lives; and young blacks are smoking a little marijuana and then have their lives ruined.
There is an undeniable element of racial disproportion in the War on Drugs. According to statistics compiled by the Drug Policy Alliance, blacks constitute only 13% of all drug users, but somehow they make up 35% of those arrested for drug possession, 55% of people convicted, and 74% of people actually sent to prison. The solution is not to deliberately target whites and even these statistics out — the solution is to end the War on Drugs and focus on treatment, not criminalization.
– RELATED: The Weekly Standard Is Absolutely Wrong About Drug Legalization
Touré understands this, and went on to reiterate a point that many (including Penn Jillette and this lowly blogger) made last month:
"Imagine if the police in Hawaii had picked up Barack Obama for being part of the 'choom' gang, and he would have never gone to college. Forget becoming president, he may not be able to vote at this point. Does that seem right?"
Check out the clip below, via MSNBC:
>> Follow Andrew Kirell (@AndrewKirell) on Twitter
Have a tip we should know? tips@mediaite.com