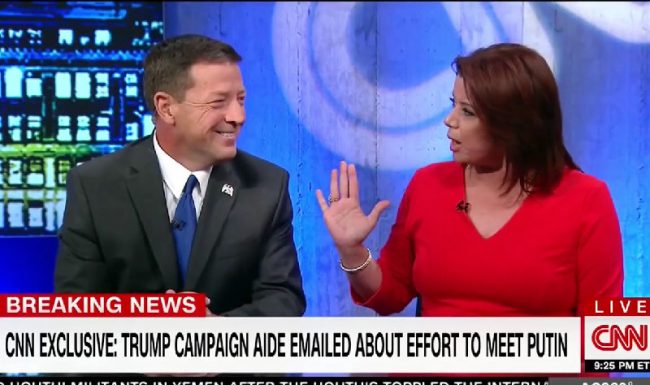 In recent days, you may have noticed passionate Donald Trump defender Ed Martin hasn't shown up on CNN panels to fight it out with Democrats and liberals. Well, there's a reason for that.
He's no longer a CNN contributor.
Earlier today, Media Matters for America noted that Martin praised Trump for ordering CNN correspondent Jim Acosta out of the Oval Office after Acosta asked the president a question. "It's really funny, I mean, it's amazing to see," Martin said on his radio show this week.
After Media Matters piece went up, The Hollywood Reporter reported that Martin was out at the network. Mediaite was also able to confirm through a CNN spokesperson that Martin is no longer a contributor at CNN.
Martin looked to pick up the mantle of resident Trump loyalist from Jeffrey Lord after Lord's ouster over social media comments. The Missouri Republican definitely made a mark in his short time at CNN as he mixed it up with other pundits and commentators during fiery panel debates.
Media Matters noted that Martin had not been on CNN since a mid-December radio spot in which he called some other panelists on a CNN segment he appeared on "black racists."
[image via screengrab]
—
Follow Justin Baragona on Twitter: @justinbaragona
Have a tip we should know? tips@mediaite.com