Was Daft Punk's Colbert 'No-Show' All One, Big, Elaborate MTV-Promoting Hoax?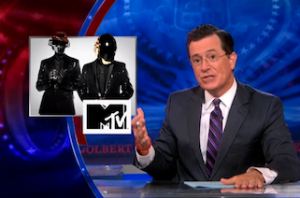 Stephen Colbert produced such a smashing success out of Daft Punk's no-show on The Colbert Report Tuesday night that some people are wondering whether is wasn't the plan all along. Last night, Colbert addressed the rumors, singling out the music website Pitchfork, which was one of the first to promote the "planned all along" theory. "Busted! You got me," Colbert sarcastically responded.
"If you weren't here last night," Colbert told his audience, "you're probably Daft Punk." He went on to explain that the band's "no-show" stemmed from their "alleged exclusive agreement" to appear on next month's Video Music Awards on MTV, which shares parent company Viacom with Comedy Central.
Responding to Pitchfork accusation that the whole thing was an "elaborate fake out to promote Daft Punk's appearance at the VMAs," Colbert debunked the theory with this riff:
"Busted! You got me. They're good. These guys are good. We thought we'd tricked you by flying in the disco decepticons from Paris in a sophisticated pantomime to fool everyone, even myself, so committed was I that Daft Punk was coming, all just to help someone else's show on another network a month from now. But we can't put one past you, Pitchfork. Oh, what a load off, I mean the guilt was killing me. And now that I've come clean, I can just do what I love: promote the VMAs."
While Colbert's sarcastic admission was meant to dispel the rumors once and for all, some questions to remain. If the star-studded dance party video "Get Lucky" was really a last-minute Daft Punk replacement, why did he start filming it as early as last Monday with Jimmy Fallon? And was Robin Thicke was really brought in just hours in advance to perform his own song of the summer or did he, as Billboard suggests, tape his segment, complete with Daft Punk no-show references, last Wednesday?
The best explanation is that Colbert found out about Daft Punk's cancellation over a week ago and decided to drag out the promotion to heighten the impact of his down-to-the-wire epic save. But if he somehow works his way into Daft Punk's "surprise" MTV VMAs performance, we'll know there was more than a little Viacom synergy happening here.
Watch video below, via Comedy Central:
And watch Colbert's original "Get Lucky" montage below, in case you missed it:
—
>> Follow Matt Wilstein (@TheMattWilstein) on Twitter
Have a tip we should know? tips@mediaite.com