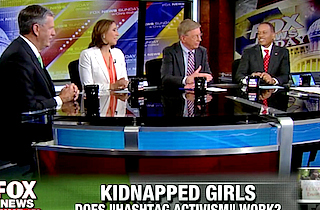 On Fox News Sunday this morning, Fox News contributors George Will and Brit Hume mocked the #BringBackOurGirls campaign, a piece of Twitter activism intended to increase pressure on the Nigerian government and international community to more actively seek the return of over 200 kidnapped Nigerian schoolgirls, arguing the campaign was intended solely to soothe the consciouses of those tweeting.

"I was not that familiar with this phenomenon," host Chris Wallace said. "It's even got a name: hash tag activism. Do you think that this is significant and helpful and can make progress, or do you think it's really about helping the people who tweet the hash tag feel better about themselves?"
"It's an exercise in self esteem," Will said. "I do not know how adults stand there, facing a camera, and say 'Bring back our girls.' Are these barbarians in the wilds of Nigeria supposed to check their Twitter accounts and say, 'Uh-oh, Michelle Obama is very cross with us, we better change our behavior?'"
RELATED: 'That's Disgusting!': CNN Panel Goes Bonkers After Guest Trashes 'Cheap Activism'
"It's trending!" Hume yukked. "It's trending on Twitter!"
"Power is the ability to achieve intended effects," Will said. "This is not intended to have any effect on the real world." Will then went on to tie this campaign to environmentalism.
"I do think that you have to take this for what it is," Associated Press' Julie Pace said. "I don't think anyone is saying that by standing there taking a picture of yourself holding a sign, you're going to get these girls back. But you have to remember, this is something that had really not been talked about, not even by the Nigerian government itself, before this started to really take hold on social media. Now, what it has done is put some pressure on the Nigerian government to accept some international assistance."
"So, standing there holding a sign may not bring the girls back, but it could ratchet up the pressure," Pace continued.
Watch the clip below, via Fox News:
[Image via screengrab]
——
>> Follow Evan McMurry (@evanmcmurry) on Twitter
Have a tip we should know? tips@mediaite.com