Woodward To Hannity: Not 'Threatened' By White House, But Still Concerned About Intimidation
Woodward To Hannity: Not 'Threatened' By WH, But Still Concerned About Intimidation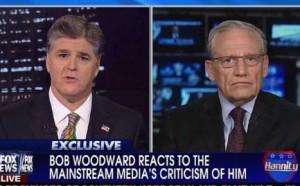 Bob Woodward sat down with Sean Hannity tonight to elaborate on all the fallout from his claim yesterday he received an intimidating e-mail from the White House telling him he'll "regret" his reporting. He clarified that he didn't feel personally threatened, but it was still inappropriate for the White House to engage with a member of the press in that kind of intimidating manner.
RELATED: Wolf Blitzer Calls Woodward's Email From White House 'Tame': 'Maybe This Whole Sidebar Is Being Overblown?'
Woodward told Hannity that Gene Sperling, the White House official who e-mailed the intimidating e-mail, was shouting at him before sending the e-mail, did apologize for getting angry, but said he wasn't disputing a fact, and his conduct is "not the way to operate in a White House." However, Woodward made it clear he did not feel threatened by the White House, nor did he ever use the word "threat." He said the point of his reporting was to lay out facts showing the Obama administration was misleading in saying sequestration was not their idea.
Woodward did not answer Hannity's question of if the Obama administration blatantly lied, saying that everyone needs to relax the rhetoric and realize people outside of DC are frustrated at "how crazed this has become."
In the second part of the interview, Hannity expressed his concern that the media is now no more than an "extension of the press office." Woodward bemoaned the current era of hyper-partisanship that he partly blamed Fox News and MSNBC on. Hannity defended the separation of news reporting and opinion programing on Fox, saying that the media has become more neutered than it was during Watergate. Woodward agreed that the press needs to be more agressive, and that White House officials sending warnings to reporters about what they're saying doesn't help.
Watch the video below, courtesy of Fox News:
—–
Follow Josh Feldman on Twitter: @feldmaniac
Have a tip we should know? tips@mediaite.com
Josh Feldman - Senior Editor