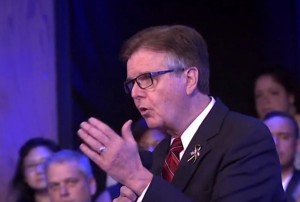 During a very tense exchange at Thursday night's ABC News town hall on race and policing, Texas Republican Lt. Gov. Dan Patrick told President Obama that despite his constant expressions of support for the police, he didn't think police knew "in their hearts" that Obama is in their corner. Patrick also patiently pointed out to Obama that "words matter," and then proceeded to misquote him.
"You said the tension between the police and between black America is only going to get worse," Patrick said, adding "Words matter. Your words matter much more than mine. Everything you say matters."
In case the President missed it the first three times, Patrick later added "Words have meanings," which is true, but the words President Obama actually said yesterday were not the ones Patrick quoted, but were, instead, a good deal more nuanced:
I do not want to gloss over the fact that not only are there very real problems but there are still deep divisions about how to solve these problems. There's no doubt that police departments still feel embattled and unjustly accused. And there is no doubt that minority communities, communities of color still feel like it just takes too long to do what's right. And the pace of change is going to feel too fast for some and too slow for others. And sadly, because this is a huge country that is very diverse and we have a lot of police departments, I think it is fair to say that we will see more tension in police — between police and communities this month, next month, next year, for quite some time.

The one thing I think we all have to do, though, is not paper over those differences or paper over those problems, but we do have to try to constructively solve them and not simply win talking point arguments and not just give voice to what we're feeling at the moment. We have to, as a country, sit down and just grind it out, solve these problems. And I think if we have that kind of sustained commitment, I'm confident we can do so.
Words matter, Lt. Gov. Patrick.
Have a tip we should know? tips@mediaite.com