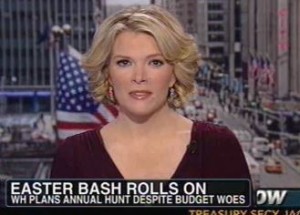 On Friday afternoon, White House Press Secretary Jay Carney appeared on Fox News to face the music over the White House's decision to host military families for its annual Easter Egg Roll, even though the sequester has forced cancellation of White House tours. Carney explained that the annual Easter Egg Roll is paid for through outside donations and proceeds from the sale of commemorative Easter eggs. Not twenty minutes later, America Live host Megyn Kelly wondered "where the money came from to entertain members of Congress and their guests" at the Easter egg roll.
There's been some talk, lately, of just how unwarrantedly snarky Jay Carney can be with reporters, and that totally unwarranted and completely without reason impatience was on display this afternoon when Fox News' Jenna Lee pressed him on the White House's  decision to open the grounds "for families for Congress, but not for "regular families."
Carney, mad dog that he is, snarkily snarked, ""Well actually, Jenna, again, if you did a little reporting, you'd know that the Easter egg roll is open for a lot of military families," and added that "It's paid for by the sale of those eggs that come out as well as from donations on the outside. It's a totally different budget. These are apples and oranges."
The Easter Egg Roll is also open to lots of "regular families" through a ticket lottery, too, but what does that ballbuster Carney expect a reporter to do? Go to the White House website?
Literally within twenty minutes, however, Fox News anchor Megyn Kelly was on the air hitting the White House hard on Easter Egg Roll-Gate. "The White House blamed the budget reductions for those White House tours being canceled," Kelly said, "and so, some folks are wondering where the money came from to entertain members of Congress and their guests. The White House said today the annual Easter Egg Roll is still on. Each member of Congress is invited to bring up to four guests to a day of fun and games on the South Lawn."
Kelly failed to report any of the information that Jenna Lee had learned minutes earlier, but she did cap off the report with a joke. "And in the small print they say it may be canceled due to a funding uncertainty… or if the media gets wind of this plan," Kelly snarked, warrantedly. Yes, what will the public say when they find out military families are going to an Easter egg roll?
The South Lawn of the White House is a national park, and so the budget for the Easter Egg Roll comes from the National Park Service, which, as Carney said, also funds the event through donations and commemorative Easter Egg sales. According to the Office of Management and Budget, however, the Parks Service is not immune to the sequester. They have had to cut $113 million from their budget for the remainder of this year, which exceeds even the $84 million that the Secret Service has had to cut. The White house has had to cut $3 million of its much more modest budget.
While the media obsesses over White House tours and Easter egg rolls, the sequester has already resulted in a very different kind of lottery. In Indiana, Head Start programs have already started offering random drawings to see which pre-schoolers can stay in, and which get dropped. If the sequester cuts remain in place, 70,000 kids are expected to lose Head Start services.
Have a tip we should know? tips@mediaite.com