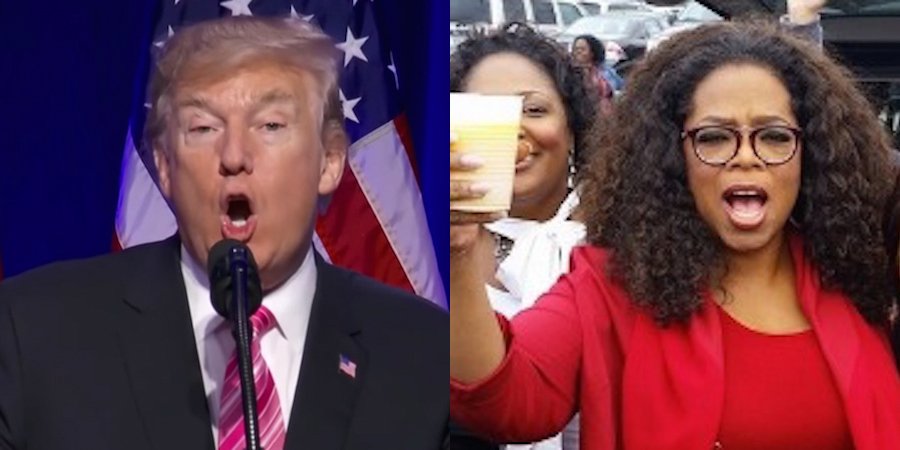 So, yeah, Oprah Winfrey might be running for president. That notion may have sounded crazy, heck, just two years ago, but we are living in the world of President Donald Trump now, so anything is possible.
Speaking of endless possibilities, Trump's long-had a knack for espousing simple and damning nicknames, from good ole Lyin' Ted Cruz to Crooked Hillary Clinton. It's kind of his thing, his presidential superpower, for better or for worse.
So, if Oprah gets in the game, what kind of pithy nickname will he come up with for her? Does he still have it in him to capture the popular zeitgeist or are his best days behind him? Sloppy Steve Bannon was kind of a dud, more appropriate for a Garbage Pail Kid than his one-time bestie, now nemesis. Crazy Joe Scarborough and Dumb as a Rock Mika Brzezinski? Weak. Liddle Bob Corker? Total rehash! Let us not forget, sigh, his genius name for former Senator Al Franken, Al Frankenstein. Get it?
These were all in the past year, with classics like Low Energy Jeb Bush already passing the ripe, old age of two. Is Trump past his prime or can he crank the gas, once more unto the breach, for Oprah? Does he have one more Little Rocket Man Kim Jong Un left in in the tank?
Here are five options that Trump may take when, and if, he decides to crown her with a nickname. Which do you like best?
[poll id="42″]
[image via screenshot]
—
Follow Lawrence Bonk (@sidescrollers) on Twitter
Have a tip we should know? tips@mediaite.com