Texas Congressman Wants To Stop 'Insane' Refugee Program, Prioritize Christians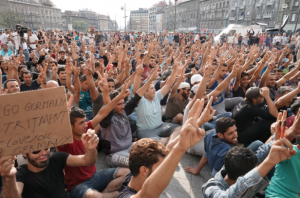 Texas Republican Congressman Brian Babin appeared on The Laura Ingraham Show Monday to call for an immediate suspension of the "insane" Refugee Resettlement Program, the legal framework guiding President Obama's plan to allow 10,000 Syrian refugees into the United States.
"This is insanity, to open up the borders of our country and invite the turmoil and the problems of the Middle East into the United States," Babin said, adding, "This is gonna be an open door for ISIS to set up bases of operation inside the United States."
Babin recently drafted a bill "to suspend the admission into the United States of refugees in order to examine the costs of providing benefits to such individuals, and for other purposes." Babin said the costs and national security risks of accepting Syrian refugees are "substantial."
Still, Babin suggest the United States isn't doing enough for marginalized Christians seeking freedom from persecution in the Middle East. "The most persecuted religious minority in the world have been Christians," he said.
Babin said Christians "are afraid, and do not go into these human refugee camps, and therefore they are not included by the U.N. to have refugee status to come into the states," before suggesting that Christians should be a priority of the United States.
Babin's fears were conferred by Ingraham, who relayed a story about being at a playground and seeing a "beautiful girl" in a full headscarf and a woman in a full burqa. "I'm sorry, that's not America. That's not America. That is not the America I grew up in," Ingraham said.
"You want to know why Trump and Carson are leading? This is one of the reason. Madness," Ingraham concluded.
[h/t ThinkProgress]
[Image via Wikimedia Commons]
—
>> Follow Elizabeth Preza (@lizacisms)
Have a tip we should know? tips@mediaite.com