Trump 'Driving Enthusiasm' Through Fear: Here's What Pundits Are Saying About the Election, 1 Week Out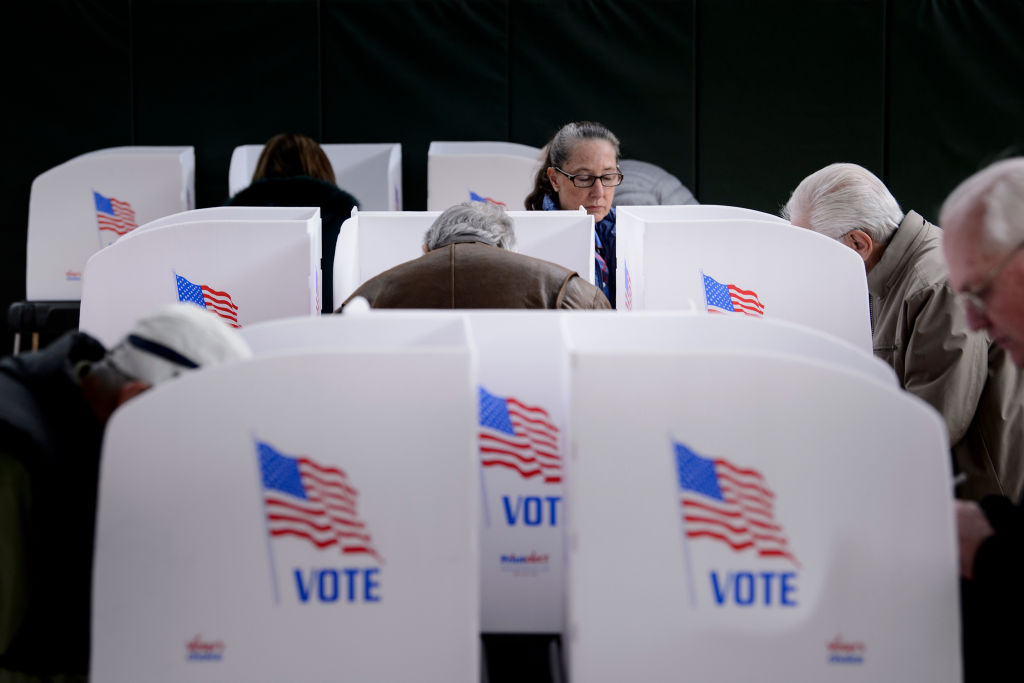 Welcome back to Mediaite's "Election Roundup" — a weekly compilation of the latest polling data and analysis on cable news regarding the upcoming 2018 Midterm Elections.
OUTLOOK: With 7 days to go, Democrats are in a good position to reshape the gubernatorial landscape and gain the majority of governorships up for grabs; a 4-point drop in Gallup's weekly President Donald Trump job approval poll has some Republicans worried about the election as a referendum on the president; Latino enthusiasm is shaping up to be key factor for Democrats in Republican-held House districts and how Trump's behavior in the wake of last Saturday's massacre at a Pittsburgh synagogue may impact voters.
Larry Sabato at the University of Virginia Center for Politics noted a handful of changes regarding governor races across the country, moving Kansas and South Dakota from Lean Republican to Toss up; Oregon from Lean Democrat to Toss up; and Rhode Island from Lean Democrat to Likely Democrat.
Current Kansas GOP gubernatorial candidate Kris Kobach is unpopular among a growing amount of prominent Kansas Republicans and has already prompted two former Republican Kansas governors to endorse Kobach's Democrat opponent.
Sabato's Crystal Ball said that, while Kansas seems like it may be "the likeliest to flip," hopeful Democrats should be cautious and "remember how embattled Gov. Sam Brownback (R-KS) was left for dead in 2014 but won anyway."
Sabato concluded: "overall, Democrats are going to net governorships, and perhaps many, but a lot of the individual races remain up in the air."
While speaking to MSNBC's Brian Williams on Friday evening, NBC News national political correspondent Steve Kornacki spotlighted the growing enthusiasm among Latino voters and how that may help Democrats in their quest to win the House.
"It's so important for Democrats and their chances of trying to take back the House because there are a number of competitive districts that Republicans now represent with large Latino populations, and in Midterm Elections, Latino voters have typically lagged when it comes to turnout," he explained.
Pointing to NBC News/Wall Street Journal polls from before the beginning of October, Kornacki noted that enthusiasm among Latino voters had been lagging behind other groups.
This, however, all changed over the course of the past month. Latino enthusiasm has surged from an average of 47 percent before October to a whopping 71 percent during the month of October.
"That was probably the single best piece of news for Democrats in our poll," Kornacki said, "because Democrats think that higher enthusiasm could translate into changing the game in a number of congressional districts."
One example Kornacki pointed to was California's 10th District, where Republican incumbent Rep. Jeff Denham trails Democrat challenger Josh Harder by 2 points, according to New York Times polling.
Harder leads Denham in the same poll among Hispanic voters by 41 points.
"Denham is a Republican who has tried to get to the middle on immigrations, tried to distance himself from Trump on that… thought earlier in this cycle he might be in good position in this district, but now is falling behind in that poll," Kornacki said. "There are a number of districts where there are Republican incumbents, Republican seats, large Latino populations… and Democrats think if there is a surge of energy among Latino voters, that could be the difference in those districts."
On Monday, Kornacki mentioned Gallup's new poll showing Trump's job approval numbers slipping, and explained how that poll may be start of a trend as the public reflects on the headlines the president has been involved in over the past couple of days.
"One of the stories we have been seeing here was Donald Trump's average approval rating in the month of October had been going up — at the start of this week 44.4 percent," Kornacki said, citing the Real Clear Politics job approval average. "That's not great by any historical standard, but given where Trump has been, this is at the high end of the range for his entire presidency and Republicans had felt, the way the House map looked, that if they could get him into the mid-40s that might give them a fighting chance to keep the House."
After detailing Gallup's poll, which has Trump down at 40 percent approval from 44 percent a week ago, Kornacki questioned whether other polls would follow the same trend.
"If what we just saw in Gallup now plays out in several other polls and this average approval number drops down to the low-40s between now and election day, that could make a very big difference just in terms of the prospects of Republicans keeping the House and on the other side, the prospects of Democrats not just taking the House, but maybe getting a big wave on their part," he said.
Following Saturday's massacre that left 11 dead at The Tree of Life synagogue in Pittsburgh — and is believed to be the single deadliest attack on the Jewish community in U.S. history — Fox News' Dana Perino spoke with Fox News politics editor Chris Stirewalt about the level of divisiveness in our country and what can be done about it.
"We all feel this soul sickness in our country," Stirewalt said. "We feel this brokenness in our conversation and the distance between each other that is constantly being exploited by politicians to get through the next election. Inciting animosity, inciting division, inciting hatred pays political dividends for politicians — whether they are Republican or whether they are Democrats, there is advantage to be had in keeping your corner in a froth."
Stirewalt said that unfortunately, the the 60 or 70 percent of the American people "who are aching for some decency… for some unity, who are aching to leave aside these hot-button issues and focus on the majority of things that Americans do agree on and the values we hold in common," are without many advocates in politics today.
He ultimately told Perino that American's midterm elections system is "really rotten."
"It has really caused us a great deal of problems over time," he said. "It was put in for more direct democracy so that individuals would have more of a voice, but what we've ended up with is a place where the best way through is to run to the far right or the far left, and that's where the easiest path to winning nominations for political offices tends to lie. It creates a disadvantage for people who are civil, for people who are cooperative, for people who don't want to pray on those fears or stoke those resentments. And we have to be honest with each other about that."
On Monday, John Berman, host of CNN's New Day, implored his panel to consider the reason it appears so hard for Trump to embody the persona of comforter-in-chief, and whether the events that have taken place over the past two weeks — namely Saturday's massacre in Pittsburgh and the terror instilled by suspected pro-Trump bomber Cesar Sayoc — would have any impact on voters at the polls.
"The reason this is so hard for the president to do, to bring the country together, is it's his political business model to divide," Berman said. "Division is what has brought him to this point politically and you can argue about how much or whether his tone contributed to what happened the last 10 days — and we are having that conversation — but look and what he's done since."
Berman pointed out that Trump has attacked prominent Democrats in the days after they had bombs addressed to them — he has gone after Rep. Maxine Waters (D-CA) during rallies and called Democrat billionaire Tom Steyer "a lunatic" on Twitter.
"What we expect is a president to do what Bill Clinton did after Oklahoma City, to do what Barack Obama did after the Charleston Emanuel AME, to do what Ronald Reagan did after so many events, whether it be Beirut barrack bombings or the Challenger explosion — that is the role of comforter-in-chief, it is part of being commander-in-chief [and] this president isn't interested in that," CNN senior political analyst John Avlon said.
Avlon said that Trump's defiance and defensiveness in the wake of these hate-filled crimes "indicates the toxic effect of a lot of his leadership."
"His real focus is driving enthusiasm and getting his voters out around fear… fear of immigrants, fear of Democrats taking power, and all of the ways that injustice will reign in the country if that is the case," CNN political analyst David Gregory explained.
In terms of how this all may actually impact voters, Avlon offered this warning: "Typically, an election like this would be decided on the economy — the economy is doing well, but the president has decided to divide and try to inflame the base, which cuts very much against the narrative," he said. "And so, what a lot of folks may be asking isn't 'are you better off than you were two years ago,' [but] 'is the country doing better off — is the country more unified than it was two years ago.'"
Have a tip we should know? tips@mediaite.com