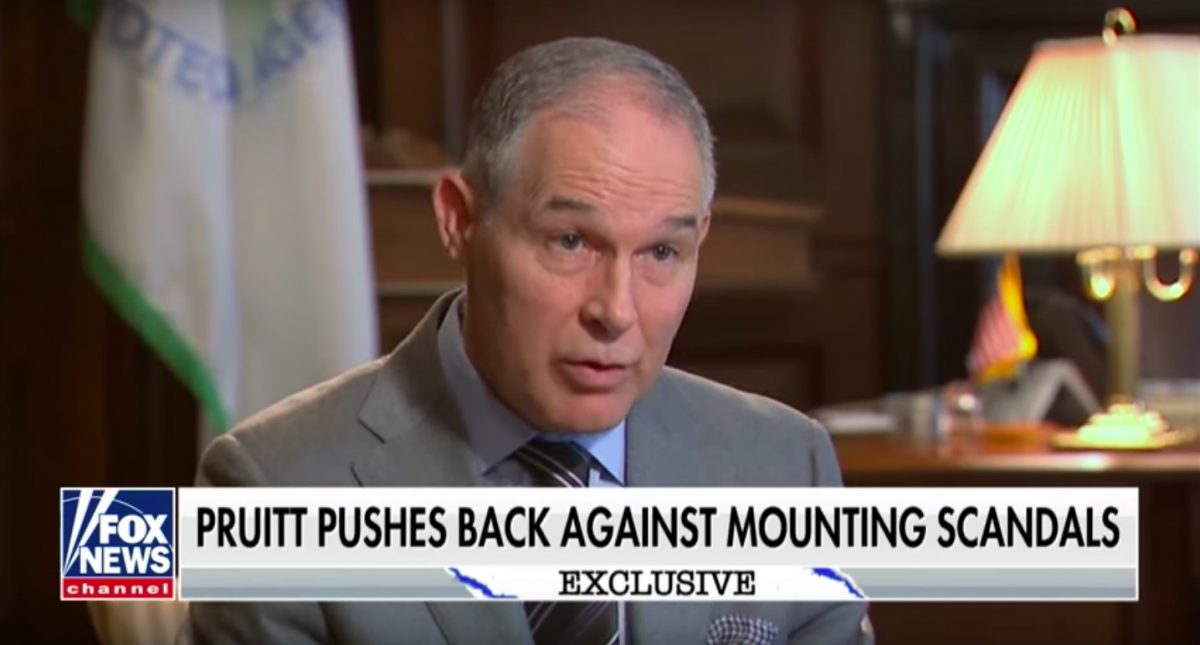 Scott Pruitt, the chief of the Environmental Protection Agency, can now add another issue to his ongoing avalanche of scandals. This time, it has to do with a claim reported by Fox News and tweeted by President Donald Trump that the head of the federal agency has received death threats during his tenure working in the White House administration.
The problem is, that might just be the literal definition of Trump's favorite term: "fake news."
BuzzFeed's senior investigative reporter Jason Leopold filed a Freedom of Information Act (FOIA) to the EPA requesting information on the death threats Pruitt reportedly received while in office, the journalist wrote in a message posted to Twitter on Saturday. In his tweet, Leopold said the EPA responded to the FOIA request, and indicated it did not have any records relating to death threats for the embattled head of the agency.
The president wrote a message of defense for Pruitt on Saturday, saying the EPA chief "received death threats because of his bold actions."
His tweet arrived after Fox News reported on a statement from a spokesperson at the EPA on Friday night who said, "according to EPA's Assistant Inspector General, Scott Pruitt has faced an unprecedented amount of death threats against him and his family."
"This is bullshit of the highest order," Leopold responded to Trump's tweet.
The EPA chief has faced scrutiny for employing an unprecedented level of security everywhere he goes, including having a detail escort his family to Disney. He's also reportedly advised his security fleet to use its sirens and lights as he periodically travels late to meetings and dinners.
It's unclear where the discrepancy is coming from in the EPA's statements to Fox News and BuzzFeed News' Leopold. "Would not be the first time EPA lied to me about whether certain records exist," he later wrote.
[image via screengrab]
—
Follow Chris Riotta (@ChrisRiotta) on Twitter
Have a tip we should know? tips@mediaite.com