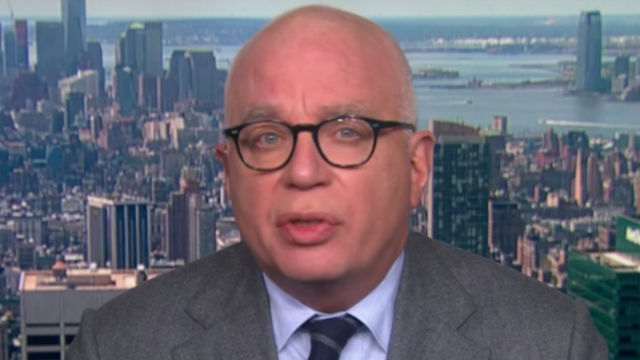 If you are alive on this spinning, chaotic ball of dirt in early 2018, you have no doubt heard of author Michael Wolff, or at least you've heard of his incendiary tell-all Fire and Fury: Inside the Trump White House. It's the only thing anyone has talked about for days. It's like Star Wars for political-dumpster-fire geeks.
So who is this guy and why in the heck did President Donald Trump and his team trust him, granting the author untold amounts of access to the White House?
Michael Wolff, 64, has been in the game for decades, busting out columns and criticism for USA Today, The Hollywood Reporter and Vanity Fair, among others. He is probably best known, however, for penning another page-turning takedown of a major conservative figure, publishing magnate Rupert Murdoch.
In 2008, he wrote The Man Who Owns the News: Inside the Secret World of Rupert Murdoch. This was not a warm and fuzzy look into the mind of a great businessman, and instead painted Murdoch as a cynical figure who may not even believe the ideology his own media empire espouses.
Just like Trump, Wolff was given, in his own words, "unprecedented access to Rupert Murdoch himself, and his associates and family."
The author has an extremely particular, and rather obvious, maneuver to obtaining all of this "unprecedented access." He starts by appealing to the subject's vanity, using whatever publication that will have him to pen an ego-stroking profile. In Murdoch's case, it was a 2007 piece for Vanity Fair that defied left-leaning ideas regarding the billionaire's bid to purchase The Wall Street Journal.
In June 2016, he wrote a cover story on Trump for The Hollywood Reporter, which featured prose tailor-made to appeal to the former reality television star.
"Life is sunny. Trump is an optimist," he wrote, calling the campaign a "brilliant success" and appealing to his subject's obsession with fame at every turn. "Trump could be the most famous man in the world right now."
That got him in the door, despite Wolff trying to downplay the importance of the profile, even going as far as to suggest the magazine's cover was unflattering, featuring "a picture of a belligerent Trump in mirrored sunglasses."
California Screamin' @THR An interview with Donald Trump at his Beverly Hills Home pic.twitter.com/eEhE9XZJ00

— Miguel Gil (@Gil_peral) June 2, 2016
Trump did not think he looked "belligerent" on the cover. He thought he looked "cool," per Wolff, a fact Hope Hicks corroborated by emailing the writer and saying "great cover!"
But once Wolff was in the White House, why was he continued to be given unfettered access for over a year? All it would have taken was, as Gabriel Sherman wrote, a single phone call to Murdoch to affirm that this was not going to end well.
One of the baffling things about Trumpworld giving access to Wolff: all they needed to do was call Murdoch and he would have said don't cooperate b/c Wolff had written nasty book on him. And Jared/Trump speak to Murdoch all the time!

— Gabriel Sherman (@gabrielsherman) January 4, 2018
This is a point of contention. Wolff says he just parked himself on a couch and let the endless confusion of the Trump White House clatter forth before his watchful eyes. All the while, however, he continued to write friendly op-eds about the administration, which paints another, more craven, picture.
As he continued to gather confidants and collect interviews for the book, he was defending the president and his outbursts in print — often at the expense of his colleagues — and as recently as April (though he occasionally derided the administration during this same time period.)
There's also the matter of Wolff's journalistic style. He has been accused, most recently by The Washington Post's Paul Farhi, of "pushing the facts as far as they'll go, and sometimes further than they can tolerate."
Media critic Jack Shafer has explained that, rather than outright lying, Wolff likes to let his subjects spin yarns, then printing the content of said yarns without fact-checking or comment, something Shafer calls exploiting "the human tendency to confuse frankness and cruelty with truth-telling."
Michelle Cottle profiled Wolff in 2004 for The New Republic and also tried to nail down what makes his prose tick.
"Much to the annoyance of Wolff's critics, the scenes in his columns aren't recreated so much as created—springing from Wolff's imagination rather than from actual knowledge of events," she wrote. "Even Wolff acknowledges that conventional reporting isn't his bag. Rather, he absorbs the atmosphere and gossip swirling around him at cocktail parties, on the street, and especially during those long lunches."
The late, great David Carr once said, of the author, "one of the problems with Wolff's omniscience is that while he may know all, he gets some of it wrong."
Wolff's barn-burner just hit store shelves today, so we don't have a running list of any untruths that may lurk in its pages, despite what the president's Twitter account might say.
We are getting some ideas, however, of what parts of the book did actually happen as advertised. The Hollywood Reporter co-president Janice Min has gone on-record, stating that the now-infamous dinner scene between the late Roger Ailes and Steve Bannon occurred as printed, calling the quotes "absolutely accurate."
Bannon, for his part, did not deny any of the quotes attributed to him when he addressed those initial excerpts shortly after they dropped, responding to a question on the matter by simply calling Trump a "great man."
Axios also reported that Wolff claims to have hundreds of hours of audio footage capturing his conversations with many of the figures featured prominently in the book, with the site noting that much of the book "rings true" despite parts of it being "wrong, sloppy," or betraying "off-the-record confidence."
In the end, a lot of people are going to read the heck out of this book and the question of why Wolff was allowed to sit on that couch for a year will fade into the background. Maybe it was the author's cunning. Maybe it was the president and his staff's messy hubris. Maybe it was a little bit of both. Does it matter, when there is so much juice, oozing from every page?
Perhaps media columnist James Warren, in a piece for Vanity Fair, will have said it best when this firestorm is finally over and done: that these two men were destined to clash.
"Donald Trump and Michael Wolff deserve one another. They're like conjoined twins tied at the ego."
[image via screenshot]
—
Follow Lawrence Bonk (@sidescrollers) on Twitter
Have a tip we should know? tips@mediaite.com