CNN's Chris Cillizza and Ryan Lizza Get Torched for Using Kamala Harris' Fundraising Haul to Praise Mayor Pete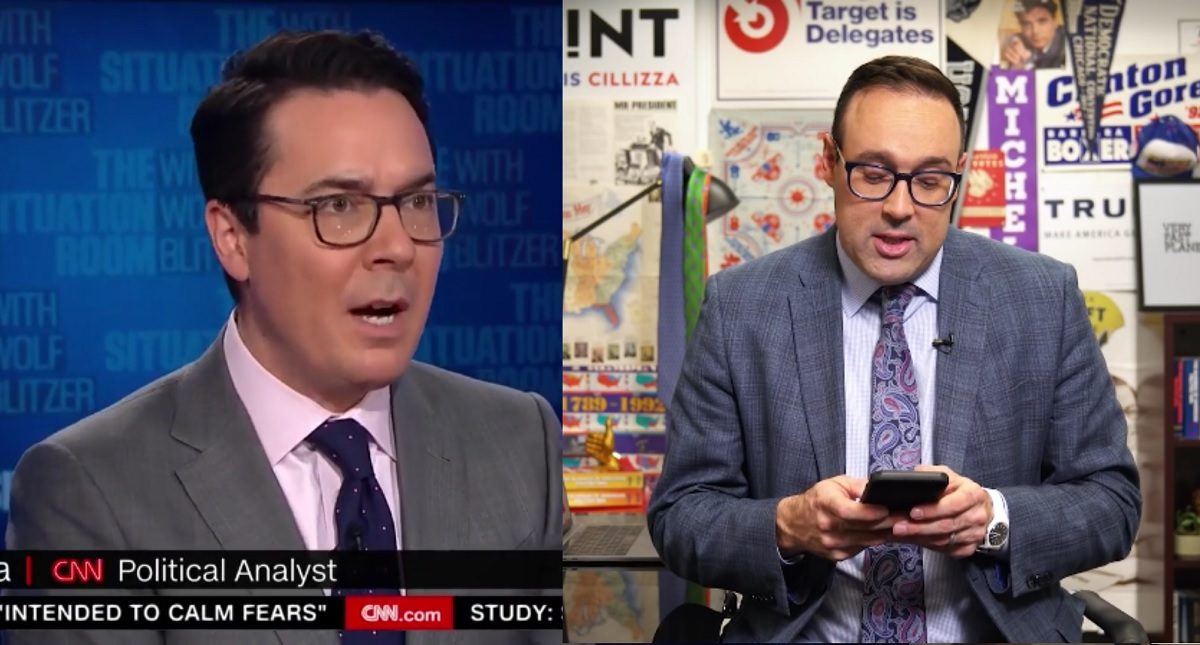 Journalists Chris Cillizza and Ryan Lizza found themselves in ratio hell for using California Senator and Democratic Presidential candidate Kamala Harris' $12 million fundraising haul as an excuse to praise South Bend, Indiana Mayor Pete Buttegieg's $7 million total, which is five million fewer dollars.
As first quarter fundraising totals for 2020 Democratic presidential candidates came trickling out Monday and Tuesday, CNN's Cillizza and Lizza got bizza with a pair of nearly-simultaneous tweets making the same point:
The Kamala Harris fundraising numbers drive home just how impressive Pete Buttigieg's fundraising numbers are. He is mayor of a city of 100,000 and had 159,000 donors. She is a U.S. senator with 40 million constituents and had 218,000 donors.

— Ryan Lizza (@RyanLizza) April 2, 2019
The $12 million for Harris makes Buttigieg's $7 million look that much better

— Chris Cillizza (@CillizzaCNN) April 2, 2019
The reactions were unkind, to put it mildly:
Times you have had helpful takes on anything = 0

— Amy Siskind ?️‍? (@Amy_Siskind) April 2, 2019
oh god another white man commenting on Kamala, pretty gross between you and Chris Cillizza mansplaining how bad she's doing! ew. ?

— Ms. Hart (@hartsigns) April 2, 2019
This media sycophancy over Mayor Pete has to be over. The idea his raising 7 million is better than Kamala's 12 is ridiculous. I'm looking at Cillizza and Lizza.

— Helen Turner (@43536H) April 2, 2019
CORRECTION: $12 million for @KamalaHarris makes Buttigieg's $7 million look $5 million less.@CillizzaCNN: Both are impressive. But they can be presented without needlessly belittling one to boost the other. https://t.co/2Qm2bWeE3w

— Philippe Reines (@PhilippeReines) April 2, 2019
[extremely jeff zucker voice] a lot of people hate on cillizza, but let me tell you: easiest salary negotation i ever had https://t.co/EER0GgZUu2

— Adam Weinstein (@AdamWeinstein) April 2, 2019
They're gonna keep pushing him no matter what

— Jason Johnson (@DrJasonJohnson) April 2, 2019
While both tweets received plenty of negative feedback, Cillizza achieved an impressive 10-to-1 ratio of replies to retweets, known in the industry as a "Half-Cillizza."
The Izza-twins weren't alone in praising Buttegieg over Harris' accomplishment. NBC News' Jonathan Allen made a similar point, and The Hill declared Mayor Pete the "first winner in the fundraising primary:
Buttigieg first winner in fundraising primary https://t.co/hSk8cjSXl0 pic.twitter.com/e9lvGQ7dkY

— The Hill (@thehill) April 2, 2019
Things got interesting when Independent Vermont Senator and Democratic presidential candidate Bernie Sanders' campaign released their $18 million first-quarter take, and CNN political director David Chalian responded with what could certainly be interpreted as a backhanded swipe at Cillizza and Lizza:
Kamala Harris' $12 million haul looks stronger in the context of Sanders' impressive $18.2 million than it did in a vacuum.

— David Chalian (@DavidChalian) April 2, 2019
Sanders has an additional $14 million on hand that was left over from his Senate campaign, giving him a total war chest of $32 million.
A lot of criticism of the media's Democratic primary coverage has centered around a "double-standard" in the way women and candidates of color are covered versus white men like Buttegieg and Beto O'Rourke, who has fielded many questions from the press on the subject.
As fundraising totals continue to roll out, it's worth noting that disparities in coverage, in earned media, should also be evaluated when assessing those fundraising totals.
Have a tip we should know? tips@mediaite.com