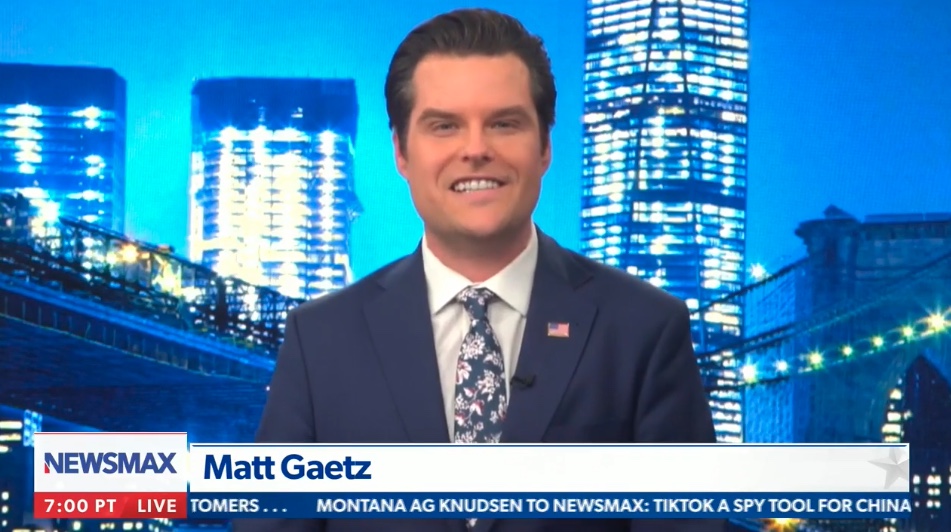 Flamethrowing Florida Congressman Matt Gaetz (R-FL) beat CNN on Friday as he guest hosted the 10 p.m. hour on Newsmax regularly occupied by Greg Kelly.
"You're on the right channel. If you're confused, your eyes are not failing you, and Greg Kelly did not suddenly get better hair," Gaetz said as he opened the show Friday.
"I'm Matt Gaetz. Thanks for joining us on Greg Kelly Reports. Greg has the night off and I have the biggest stories driving Washington, D.C. right now," the federal legislator added.
The congressman also hosted the show on Monday night, though those numbers are not yet available.
Gaetz has long moonlighted as a media figure and is regularly considered to be a member of the so-called "entertainer wing" of the Republican Party. In January, Gaetz took his duel role so far as to even interviewed another member of Congress, embattled Rep. George Santos (R-NY), while guest-hosting Steve Bannon's War Room podcast. Gaetz, who drew national headlines earlier in the year for holding up the House speaker vote, defended Santos, arguing that "embellishing one's resume isn't a crime."
Gaetz also hosts his own podcast and is a regular guest on Rep. Marjorie Taylor Greene's (R-GA) podcast as well as across right-wing media.
On Friday night, Gaetz added another line to his media resume by outperforming CNN in the cable news ratings.
He was the only Newsmax host to win an hour against one of the three main networks, beating CNN with 282,000 total viewers to 249,000 total viewers. CNN was airing an episode of The Whole Story With Anderson Cooper.
Cooper's special programming did, however, beat Newsmax in the key 25-54 age demographic with 41,000 viewers to 38,000. By comparison, Fox News won the hour with 106,000 demo viewers and 1.23 million total viewers.
Newsmax, in recent weeks, has won several hours over CNN – particularly with Eric Bolling beating Anderson Cooper at 8 p.m. Bolling's wins come at a time when his audience has seen a boost following the firing of Tucker Carlson from Fox News and the continued fallout from CNN's Trump town hall.
Have a tip we should know? tips@mediaite.com
Alex Griffing - Senior Editor