Mediaite Presents: 25 Need-To-Know Bloggers You May Not Know Already
Reinventors
John Carney of Business Insider
After a stint as a lawyer at several big name, big city firms, where he represented banks, hedge firms and private equity firms, John Carney put down the legal pad and picked up the pen, launching a career as a financial journalist. Carney's first major post was serving as the editor in chief of Dealbreaker, a notorious "online business tabloid and Wall Street gossip site." Since then he has moved on to Business Insider, where he is the managing editor of Cluster Stock, the site's finance page.
Half man, half metal, Carney's writing has appeared everywhere mainstream and online that counts, and he has gone head to head with the likes of Andrew Ross Sorkin, who runs the New York Times' Dealbook blog. Often taking a contreversial stance on the financial topic du jour, Carney has never kowtowed to the man or let anyone think for one second that the mainstream media has a monopoly on authority when it comes to financial reporting.
John Byrne and Larisa Alexandrovna of The Raw Story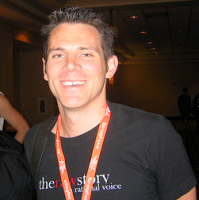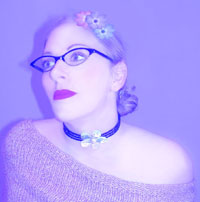 The Raw Story is something of an odd fish in the political blogosphere. It's no longer a "hot new liberal gadfly newsblog," as LA Weekly identified it when it launched in 2004; the young guns who started it have gotten older. In an era when online investigative projects are increasingly split between TPMMuckraker-style process journalism skeleton crews and ProPublica-like fat-pocketed nonprofits, The Raw Story is a hybrid between Drudge-like linkblog and Newser-like summarizer that still manages to roll out fully-fleshed investigative pieces seemingly out of nowhere.
The blog sometimes shows signs of its age: Drudge isn't often hailed for its design aesthetic (except when it is), and it doesn't take too much digging to find a broken link or two. But John Byrne and Larisa Alexandrovna, who have been with the site since its early days, are real talents. They combine a Drudge-like 'nose for news' on the aggregation side with solid reporting chops. Byrne, the founder of the site, finds time to do deep-digging investigations among his other obligations; Alexandrovna, also a solid investigative journalist, has been writing great stuff at her personal blog At-Largely these days (and getting into some high-profile interblog spats) and is also a poet. Aesthetically, the Raw Story could use a tuneup, but though its editors are no longer the hot young new liberal gadflies on the block, they shouldn't be overlooked.
Ben Smith of Politico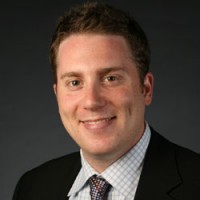 During the 2008 election, Ben Smith called his blogging "pathological" in a New Republic piece about the year's crop of insatiable political writers. "It's so built into my system, that it's going to be hard to stop," he said at the time. As it turns out, he never did.
Now that the election is over, Politico has wrangled even more a hold on the national political conversation, with their website's millions of readers and local D.C. print edition padding the profit margins in a time when journalism as business is shaky to say the least. In Michael Wolff's Vanity Fair profile of the company, he praised their rejection of the New York Times' claim that news could be "platform agnostic," that whether it's in print or online, the content could be the same. Politico, Wolff writes, is an online "obsessive-compulsive mix of trade journal, Twitter feed, and, quite literally, real-time chat with seniormost newsmakers and leakers."
If that's the case, Smith is doing a fair amount of the leg work. Having reported for the Wall Street Journal, New York Observer and New York Daily News, he understands the discrepancies across mediums. Perhaps the most important aspect of his contribution, though, is right up top on his blog's header: "A running conversation about politics." Like the most successful political bloggers of the moment — Andrew Sullivan, Matthew Yglesias, et al. — Smith cultivates a dialogue with his readers that not only results in critical debate and a lively comments section, but motivation, and even scoops. Smith understands a crucial element of blogging: building a personal brand and gaining a loyal readership, and that sort of foresight will serve him well long into a career online.
Kennyata Cheese/Chris Menning/Jamie Wilkinson/Ellie Rountree
of Know Your Meme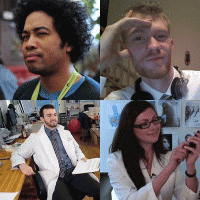 Blame it on Amanda Congdon's departure, or the cutesy, unpronounceable word "vlog:" since it got big, Rocketboom has always had its share of naysayers. How has an (ugh) vlog founded in 2004 managed to constantly vex its critics?
Know Your Meme, a side project that spun off of Rocketboom, may be a roundabout answer to that question. There are video episodes, but the real highlight is the so-called Internet Meme Database, a joint effort by users and editors to catalogue every major meme on the Internet. Keyboard Cat, Kanye, Demotivational Posters, sure, but also the likes of Ualuealuealeuale, Domo, and WEEGEE. It isn't as comprehensive as a site like Encyclopedia Dramatica, but its smoother, geeky-but-basically-mainstream ethos filters out the articles about obscure forum wars and the endless references to "newfags." Like Rocketboom, it daringly dances on the fringes without falling off a cliff into obscurity.
Cheese, Menning, Wilkinson, and Rountree — principally Menning and Wilkinson, who head up the Know Your Meme database project — are like the BuzzFeed editors (see page 2) in they enjoy the quiet influence of culling the crowdsourced project and contributing original research of their own. Though it hasn't been around for very long and still has a lot of growing to do, Know Your Meme could become a gatekeeper and tastemaker that the Internet badly needs: It's not that no one has tried something like it before, but that no one has quite struck the right balance.
Nate Silver of FiveThirtyEight.com
The stunning, out-of-left field success of FiveThirtyEight's Nate Silver is easy enough to understand. In an election cycle crowded with more pundits and talking points than any other in history, Silver gave people something that was in precious short supply: hard facts, smartly interpreted. Silver made his political leanings clear from the start — an Obama fan, he first got attention for his work at Daily Kos — but his sophisticated analytic framework was unbiased and open for all to critique.
Then something happened: Obama won the election. Silver's state-by-state predictions were impressively accurate, but the question remained: what would become of a blog named after electoral colleges?
Silver's traffic has slid sharply since the election, but he continues to write smart, fascinating posts. When the 2010 primaries and elections draw nearer, Silver will no doubt be in great demand again, but he shouldn't be pigeonholed. Malcolm Gladwell recently told Time that young journalists should study statistics instead of taking yet another J-school class, and Silver's smart analyses of everything from economic indices to Academy Awards to (yes) election arcana prove that knowing how to read and explain numbers is as vital a civic skill as a journalist can have.
Have a tip we should know? tips@mediaite.com