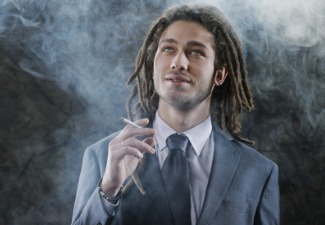 4/20 is two days away. You know what else is? Easter. That's right, two important national holidays are converging on the same date for the first time in eleven years, thus making Sunday an awesome day for anyone who loves both Jesus and marijuana. And believe it or not, some churches are actually capitalizing on this to draw in crowds.
In fact, there's one church in particular where they've really gone all-out to make the fun little connection for people. The Freedom Church in Los Angeles is holding a special sermon series "exploring our chronic search for peace and healing." Get it? Chronic?
But it's not just that, the church's promotional material for the sermon series is called Medicated, there's swirling smoke in the background, and then they have this pretty blunt (heh heh) tagline:
"Celebrate 4/20 with us, because you can't get any higher than RISEN!"
(It's worth mentioning at this point that the URL notyourmomschurch.com redirects to the Freedom Church's website.)
Pastor Justice Coleman explained the rather odd advertising, saying, "I realized that Easter fell on 4/20 and I thought, 'Man, half of my friends, they're going to be doing something else on 4/20. They're not going to want to come to church…' So, how could we put together a talk or a program that wouldn't celebrate smoking weed, but would celebrate the idea that there's so much more to life."
You can watch their promotional video below:
Medicated Promo from Freedom Church on Vimeo.
[h/t KCCI]
[photo via Shutterstock]
— —
Follow Josh Feldman on Twitter: @feldmaniac
Have a tip we should know? tips@mediaite.com
Josh Feldman - Senior Editor