ABC's Partnership With Apple on Full Display as View Cohosts Shamelessly Praise iPhone Changes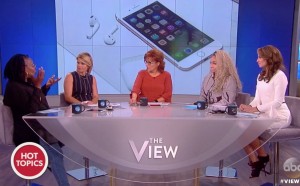 By now you're likely well familiar with the new changes that are coming to the iPhone 7 as announced by Apple yesterday in Cupertino: there's no head-phone jack, the home button has changed, it's thinner, blah blah blah.
Every iteration of this product — or any Mac/Apple product for that matter — includes modifications in design that are pushed purely to make more money in the name of design and innovation. We all, as a general public, let out a collective, "HUH?!" on day one and then more or less adapt.
But the process of convincing millions of Americans that the new designs are favorable and worth investing all their money into is significantly helped along if TV hosts are doing the bidding of the man upstairs.
Enter the ladies of The View, whose daytime program on ABC kicked off their final segment of today's show by covering the iPhone changes. "Speaking of people losing their minds," offered Whoopi Goldberg, "the new iPhone 7 has been announced. And people are freaking out because it doesn't have a headphone jack."
The crowd predictably began to boo at the mention of the wildly unpopular announced change. Immediately, the View cohosts snapped into action to sway the topic of conversation towards the green.
"Calm it down!" said Raven Symoné.
"Hold on one second!" cried Goldberg at the same time, indicating that the fix was in from the show's hosts to skew the "opinions" of the new Apple product.
The deeply-embedded partnership between Apple and ABC is hardly new; last year, the hit ABC family sitcom Modern Family aired an entire episode using Apple software and clever production techniques in an episode called "Connection Lost":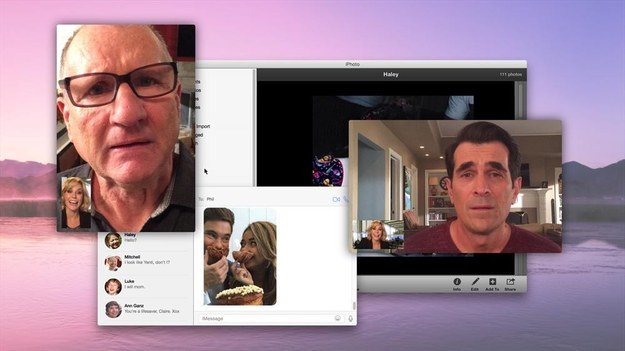 Apple TV heavily features a rotating cast of ABC programming — both current and in "throwback" form. Oh, and Bob Iger, the Disney CEO, just so happens to sit on the Apple Board of Directors.
The segment on today's View made no effort to claim its clear partnership bias in its coverage; as a heavily-opinionated show, viewers rely on The View to weigh in on controversial topics with a wide array of input and takes. But on Thursday, no such variety was given; rather, the women on The View were magically in agreement that the newly announced changes to the iPhone 7 were wonderful.
"This is gonna be awesome!" added Symoné revealing her hand just a bit too enthusiastically.
"You know, look — you got over everything else!" exclaimed Goldberg.
Candace Cameron-Bure chimed in right on cue: "That's true! They started modeling their computers that don't have disk drives anymore and it's the same, we all get used to it… it's not that big of a deal."
"But let's look at the plus side," added Symoné as if there had been anything else discussed. She touted the product's cameras, speakers, a home button "…that does extra features," and the new color options.
Sickeningly, it felt like a damn Apple ad, not an authentic argument from an opinionated talk show.
While Joy Behar dared to be the voice of dissent (albeit in more of a I-Can't-be-bothered way than a how-dare-you-Apple way), the consensus was all about how fantastic Apple was. Don't believe me?
"Kudos to Apple!" concluded Jedediah Bila.
Yeah, Kudos to you Apple for having your TV hosts proudly parade bizarre product changes as much-needed innovations and influencing the opinions of your audience. Think different, indeed.
—
J.D. Durkin (@jiveDurkey) is an editorial producer and columnist at Mediaite.
[images via ABC screengrab]
This is an opinion piece. The views expressed in this article are those of just the author.