Adele's Lawyers to Huckabee: Hello, It's We, We Were Wondering if You'd Stop Using Our Song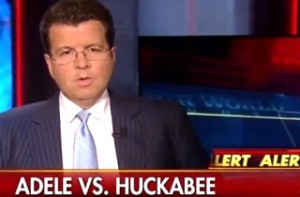 Yesterday, I delivered the good news that presidential candidate Mike Huckabee parodied Adele's wildly popular single, "Hello," in an attempt to woo voters ahead of the Iowa caucus. Today, I'm bringing even more good news: Adele knows about the misguided ad, or at the very least, her team does, and they're not as excited about the whole thing as I am.
Today on Fox News, Neil Cavuto, who is apparently a huge Adele fan, shared that the singer's handlers are pretty mad about the parody. He even classified it as an alert with a flashy red-tinted intro to signify the importance of the revelation, so listen up.
Calling it "the dust-up with one Adele," Cavuto explained that the reaction from the music industry was extremely negative even though the video had "good humor" and "tongue firmly in cheek." Here is the best quote from his alert:
They were apparently not pleased and wanted it to stop. It has had to stop. Governor Huckabee isn't quite so sure why it should stop. So, it technically won't be stopped.
He even trotted out former General Counsel for the RNC, Reince Priebus, making him weigh in on the controversy. Priebus responded that this sort of thing "happens all the time" and that it was unclear whether Huckabee would actually be required to stop using the song. Cavuto pressed him further, asking if he likes Adele's music before giving up and moving on to discuss tonight's debate.
[image via screengrab]
For more from Lindsey, follow her on Twitter.
Have a tip we should know? tips@mediaite.com