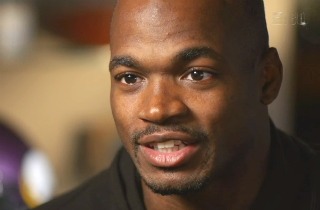 Adrian Peterson, the Minnesota Vikings player suspended after evidence of him beating his 4-year-old son emerged last year, has been formally reinstated into the NFL.
Peterson, represented by the National Football League's Players Association, had his suspension overturned by a federal judge today, who ruled that NFL commissioner Roger Goodelll had attempted to retroactively apply their new "don't commit domestic abuse against your family members" policy, made long after Peterson's case went public, to justify the suspension. Peterson and the NFLPA had initially appealed his suspension to an arbitrator, Harold Henderson, who upheld the suspension by arguing that the "New Policy" (i.e. Please Don't Beat Your Family Members Because Now The Public Cares) was the same thing as the old policy (i.e., Whatever), and hence, Peterson's punishment was justified.
"Nothing in the record supports a finding that the NFLPA asked Henderson to determine whether the discipline imposed was consistent with the previous Policy," US District Court Judge David Doty wrote in his opinion overturning the suspension (obtained by Deadspin):
Moreover, Henderson's conclusion that the New Policy is consistent with the previous Policy is contradicted by the Commissioner's own statements in which he acknowledged that the New Policy included "changes" to the Policy. See, e.g., id. Ex. 65, at 1 ("I made a mistake. I'm not satisfied with the process we went through, I'm not satisfied with the conclusions. And that's why we came out last month and said: we're going to make changes to our policies. We made changes to our discipline.")
Peterson's suspension came shortly after photos and texts emerged, showing Peterson admitting that he'd whipped his four-year-old son so harshly that he bled for a week. Reportedly, Peterson plans on trying to leave Minnesota, which, hey, we would too if our organization tried to throw us under the bus.
This is the second time a high-profile suspension related to domestic abuse has been overturned: back in November, a federal judge overturned Ray Rice's indefinite suspension, citing the fact that Goodell had been inconsistent in applying disciplinary action and that Rice had been honest throughout the process. (If you'll recall, the NFL only gave Rice a paltry three game suspension after an incident where he knocked his wife out cold in an elevator came to light. The indefinite suspension came only after TMZ published security footage of the events inside the elevator, sparking mass outrage and forcing Goodell to retroactively punish Rice.)
[Deadspin]
[Image via screenshot]
—
>> Follow Tina Nguyen (@Tina_Nguyen) on Twitter
Have a tip we should know? tips@mediaite.com