Akron Mayor Abruptly Resigns, Blames Local Newspaper for Pushing Him to Brink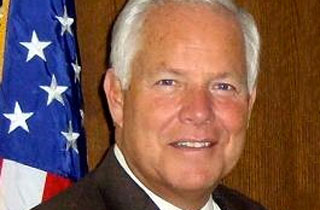 On Saturday, Don Plusquellic, who's served as the mayor of Akron, OH for roughly 28 years, unexpectedly announced his resignation because he was tired of dealing with the local newspaper.
In a letter addressed to the citizens of Akron, Plusquellic singled out the Akron Beacon Journal for their coverage of his recent battles with Akron's city council. "I do not believe that my hometown newspaper is interested in the truth," Plusquellic said. "I am done fighting this madness." (A spokesman for Plusquellic said that he would not be taking any interviews, which makes sense for a guy who resigned because he hates the newspaper.)
The Akron Beacon Journal reported the resignation with some befuddlement. "It is disturbing to me that the mayor would leave office this way," said Beacon Journal publisher Mark Cohen. "The newspaper has a history of reporting honestly and fairly. To accuse us of somehow causing his resignation is just not rational."
Plusquellic's beef with the paper stems from their coverage of his conflicts with city councilman Bob Hoch, which went a little something like this:
Plusquellic ordered the police chief to tell Hoch not to attend his annual State of the City speech in March, with York saying that Hoch had made threatening statements to the mayor during council meetings.

The Beacon Journal later obtained an email from York to a resident saying that the mayor was afraid Hoch would shoot him in front of his mother at the speech.

That set off a flurry of public backlash against Plusquellic and support for Hoch. To date, no investigation has been done into the mayor's accusations, despite Hoch and other council members calling for one.

In Plusquellic's letter, addressed to the citizens of Akron, he criticized the Beacon Journal for declining an offer to sit down with seven cabinet members and [Council President Garry] Moneypenny to discuss the Hoch dispute. He also took aim at a column written by Editorial Page Editor Michael Douglas in which Douglas referred to a 2008 Saturday Night Live skit about Hillary Clinton with the theme that "bitches get things done."

"Well, it might be said, bastards do, too," Douglas wrote, going on to say that Plusquellic's leadership would be crucial in the next four years.

Plusquellic said in his letter that being called "a 'B' word in an editorial is more than I'm willing to endure."
Moneypenny will take over the office after Plusquellic's resignation on May 31, and speculated in a later interview that the soon-to-be former mayor was no longer enjoying his job.
[h/t TPM]
[Image via Wikimedia Commons]
—
>> Follow Tina Nguyen (@Tina_Nguyen) on Twitter
Have a tip we should know? tips@mediaite.com