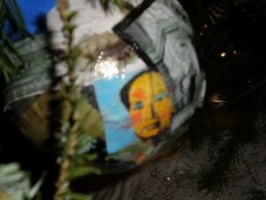 Though the original story broke two weeks ago, Ornamentgate is still getting a surprising amount of attention, thanks to a recent essay explaining how all this came to be by the man responsible for adorning the White House Christmas tree with controversial imagery.
Writing for the New York Observer, Barney's Creative Director Simon Doonan gave his side of the story, and called out Andrew Breitbart, publisher of the original report. Mediaite contacted Breitbart and got his reply.
First, some background. On December 23rd, the website Big Government, of which Breitbart is the publisher, posted a story reporting on a variety of ornaments adorning the White House Christmas tree with various images some found controversial — specifically, images of Chairman Mao, an image of Mt. Rushmore with President Barack Obama inserted in the monument, and transvestite/performance artist Hedda Lettuce. This story caught on like wildfire on conservative blogs, and even earned mention by FNC news anchor Bret Baier.
Breitbart showed a wry appreciation for Doonan's explanation: "Look, I love John Waters at the Angelika Theater; I don't love John Waters at the White House for Christmas."
Secondary storylines came and went, but this story was received rather predictably along partisan lines. Conservatives felt that the unseemly decor represented a lack of respect for a Christian holiday by the current administration; liberals saw this as much ado about nothing at best, gotcha media at worst. What was missing was an official explanation on how these images found their way to the White House tree — that is, until yesterday, when Simon Doonan explained how this all went down.
Doonan does a remarkably entertaining job of explaining how he came to be in charge of White House decor — from meeting White House Social Secretary Desiree Rogers, to meeting the First Lady, to arriving with the concept that led to the risqué tree trimming. In short, it was a rather clever way to reuse old decorations that had been mothballed in a warehouse, and reinvent them by sending them out to various community centers for custom decor. The problematic ornaments somehow sneaked through the editing process, as they were lost in the roughly 800 ornaments that ended up adorning the tree.
While Doonan gleefully details his transformation into "First Elf," in full patriotic splendor, he reserves his most pitched vitriol towards both the bloggers who criticized him, and Mr. Breitbart, the publisher behind the original report:
And so to you, Mr. Breitbart. Now that the dust has settled and the homicidal emails have slowed to a trickle, I realize that I owe you a debt of gratitude. By dropping the First Elf in the poop, you have unwittingly provided me with a searing insight into the pathetic and disastrous state of our comment-obsessed culture. Thanks to you, I see now that there are two kinds of people in the world: In the first group, we have those who "do," and in the second group, we have those who sit at their computers on their ever-widening asses blogging, platforming and commenting on the not-always-perfect efforts of the first group. Tinselgate has renewed my commitment to keep my tight ass fairly and squarely plonked in that first group.
When reached by Mediaite, a good-humored Breitbart was eager to respond to Doonan, and he gave as good as he got. Breitbart: "Context and perspective is everything. Its clear that this guy is not your typical Barbara Bush White House decorator. I have no problem with him doing this at Barney's, a private residence, a gallery … whatever. This story struck a nerve because it perfectly illustrated an administration that is either tone deaf or has contempt for the millions of Americans who look at Christmas as a traditional Christian holiday."
Regarding the violent emails which Doonan claimed to receive, Breitbart defended himself thusly: "he's ascribing on to me the alleged opinions of those who have attacked him. Andrew Breitbart didn't give out email addresses. We just showed the pictures." Breitbart continued, "Its funny how his sharp tongue and 'I for Irony' are so vital to his work. But I'm not allowed to point out the juxtaposition of a transvestite (or Messianic image of Obama) on the White House Christmas Tree? I'm just using the mirror back on him." On the back-and-forth attacks: "Welcome to the public arena, my friend."
In the end, though, Breitbart showed a wry appreciation for Doonan's explanation: "Look, I love John Waters at the Angelika Theater; I don't love John Waters at the White House for Christmas."
Have a tip we should know? tips@mediaite.com