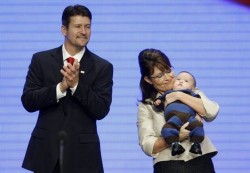 The other day Andrew Breitbart offered $100,000 to anyone who would provide him with the entire Journolist email correspondence. The offer elicited a lot of amusing responses and fun counter-offers, but no one appeared terribly upset by the ethical connotations of the offer other than Andrew Sullivan, who had this to say:
When Andrew Breitbart offers $100,000 for a private email list-serv archive, essentially all bets are off. Every blogger or writer who has ever offered an opinion is now on warning: your opponents will not just argue against you, they will do all they can to ransack your private life, cull your email in-tray, and use whatever material they have to unleash the moronic hounds of today's right-wing base.
So yes, probably overstating matters just slightly. Breitbart posted a long response, essentially calling Sullivan a hypocrite for a variety of reasons including his obsession with Sarah Palin and her youngest son Trig (something we have documented here before).
Sullivan's disgusting, ends-justify-the-means obsession with the personal family life of Sarah Palin breached every ethical and journalistic boundary known to the cosmos. Between airing Palin's hacked private emails and making a cottage industry out of challenging the maternity of her son, Trig, sometimes the word "irony" or "hypocrisy" is not descriptive enough.
Sullivan has now posted an equally long response, which included this graf justifying his interest in Palin
Palin held her new-born infant up at the RNC Convention like some scene from the Lion King; she told the crazy story of her wild ride to the Anchorage Daily News long before she was picked by a Google search to be the back up for the leader of the free world. She has written a book full of extremely private details – the nature of her contractions, for example – and made a fortune off it. She is the one who first mentioned "amniotic fluid leaking" and "water-breaking", not me. She has made speech after speech citing her infant son – just as her teenage daughter has been pushed into every public arena imaginable. There is nothing private about Palin's story about her child with Down Syndrome. Nothing. To examine the details of a story already told in such detail in the public sphere as a core campaign platform is violating no one's privacy. It is asking relevant questions of a narrative plainly and publicly provided by Palin herself. I have used no facts except those already in the public domain. I have learned a lot from of-the-record chats and none of it – none – has appeared in this blog. So there is neither a shred of hypocrisy nor an iota of inconsistency in my record on this.
Sullivan's argument boils down to his believing that since Palin made her children a focal point of her vice presidential campaign (and arguably her subsequent life/celebrity campaign) the kids are fair game. Which may be true in so far as Palin opened the door to her family and practically walked the press in, but doesn't hold up when the subject of your often over-zealous inquiring mind is an infant. That said, while inappropriate I'm not convinced it qualifies as hypocrisy.
Have a tip we should know? [email protected]