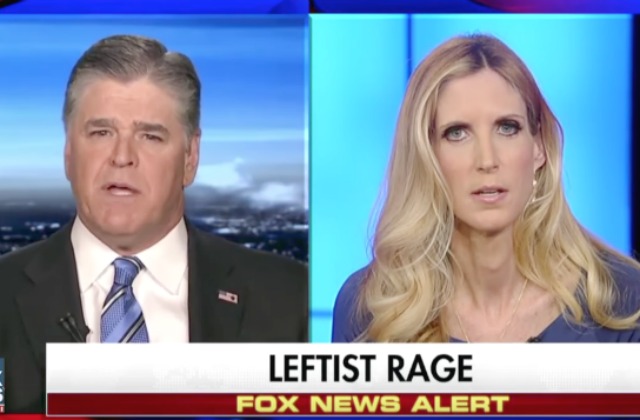 Ann Coulter criticized Sean Hannity as a "late Trump convert" and blind follower who would "endorse communism" if the president tried to implement it, in a column written on her website.
Hannity drew the ire of the provocative conservative commentator after he interviewed her on his show and edited out a response she gave in which she criticized President Donald Trump's cabinet of Goldman Sachs executives.
The two went back and forth on Twitter following the episode, with Coulter accusing Hannity of censorship and the Fox News pundit telling her to "cut the BS."
In the latest chapter of the ongoing feud, Coulter penned a column arguing that Trump's stocking the White House halls with Goldman Sachs executives will alienate his base of support — an act of political suicide tantamount to "voluntarily getting an AIDS transfusion."
Coulter also argued that Hannity, thanks to his remarkable sycophancy towards Trump, is turning a blind eye to his failings, which will eventually harm Trump's supporters.
"Sean Hannity, bless his heart, has the zeal of the late Trump convert," she writes. "He would endorse communism if Trump decided to implement the policies of 'The Communist Manifesto.' (Which the GOP's health care bill actually does!)"
Coulter goes on to describe the answer she gave about Trump's chief economic adviser and former Goldman Sachs COO Gary Cohn, and ridicules Hannity's excuse that it was edited out for time: "It may not be evident to most viewers, but three minutes MUST be left at the end of every Hannity show for Nerf ball throwing," she quips.
Coulter writes:
With the zealotry of those who came late to the Trump party, Hannity fully endorsed Trump's faith in Cohn, adding, "I never got a job from a poor man!"

Those of us who have been here for a while — unlike Cruz- and Rubio-supporting Hannity — know how to party responsibly. The best way we serve the people we admire is to tell them the truth. (Someday, no doubt, Nancy Pelosi will wish she had been surrounded by fewer Yes Men.)
The right-wing commentator's criticism of Trump and Hannity may come as a surprise to media-politicos, who might have expected the author of a book titled In Trump We Trust: E Pluribus Awesome! to be a more able bodied water-carrier.
UPDATE –– 6:20 pm ET: Hannity has already responded:
Ann, u fall in and out of love with Christie Romney Trump and how many others. Frankly you just bore me. https://t.co/ERf1TUUk8U

— Sean Hannity (@seanhannity) June 28, 2017
[image via screengrab]
Have a tip we should know? tips@mediaite.com
Aidan McLaughlin - Editor in Chief