Ann Coulter: Obama Will 'Screw [Democrats] Six Ways From Sunday' To Win Reelection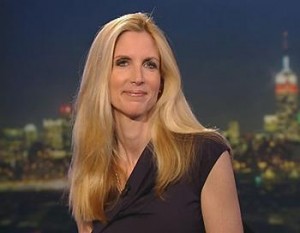 Ann Coulter sat down with Sean Hannity on his radio show Thursday to talk about President Obama finally coming out in support of gay marriage. Coulter didn't spend too much time going after Obama for his position, instead going after him for putting his own reelection chances ahead of members of his own party. Several Democratic legislators in contentious elections are backing away from Obama's endorsement of gay marriage so they stay in office. Coulter said that the president's thought process on this was just to "screw them six ways to Sunday" and keep the focus on his own reelection.
RELATED: Majority Of Americans Say Obama's Gay Marriage Endorsement Won't Affect Vote
Coulter said that every time gay marriage has come up for a popular vote, it has been rejected, even in liberal California. She also brought up that gay marriage is opposed by a significant percentage of the African-American community. Coulter didn't imagine Obama could lose any significant percentage of the black vote due to this, but predicted that Democrats running for reelection like Senator Claire McCaskill would lose if they were connected to the president on this social issue.
"She's in a tough race. A Democrat in Missouri, and I hope she loses. But she can't come out for gay marriage. And so, you know, this shows a level of desperation that Obama is saying, 'I have just got to get re-elected and I don't care what happens to the down-market Democrats. I'm going to screw them six ways from Sunday, but it will help me.'"
Listen to the audio below:
h/t Daily Caller
Have a tip we should know? tips@mediaite.com
Josh Feldman - Senior Editor