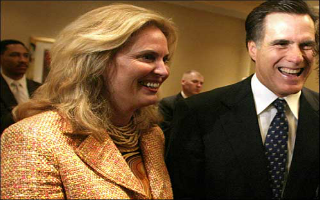 Ann Romney, wife of Republican presidential candidate Mitt Romney, said on Monday that she does not think her family will take as many vacation as the Obamas have if her husband is elected president. She added that the Romneys will not take any international vacations and will travel domestically when they do need a break from the White House.

RELATED: Ann Romney: 'I Doubt That' Family Will Take As Many Vacations As Obamas
Ann Romney was asked by a reporter for WJR Detroit if her family would take as many vacations overseas as the Obamas have. "I doubt that," Romney replied. "Our vacations and our happiness come from being with our children and our grandchildren."
Romney said that it is unlikely that her family would travel internationally – adding her family has their "own places for that."
"When we take a vacation, it'll be with our children and grandchildren," Romney concluded.
A 2010 Spanish vacation that Michelle Obama took with her two children caused a firestorm of criticism. Some, including Former First Lady Laura Bush's chief of staff, said that the First Lady should avoid making trips overseas on the taxpayer's dime amid a persistent recession. Though, the Obama family have since reimbursed taxpayers for the costs of that trip.
The President's daughter, Malia Obama, also sparked controversy when she made a trip vacations to Mexico earlier this year for spring break.
However, President Barack Obama himself has taken no vacations aboard during his term in the Oval Office.
h/t The Hill
> >Follow Noah Rothman (@Noah_C_Rothman)on Twitter
Have a tip we should know? tips@mediaite.com