Anthony Weiner and Elizabeth Warren Spar over Eric Cantor and 'Revolving Doors'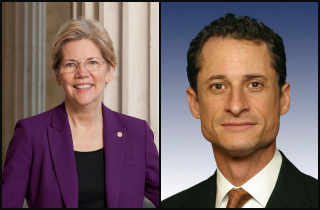 Former congressman and New York City mayoral candidate Anthony Weiner and Sen. Elizabeth Warren (D-Mass.) — two well-known liberal Democrats — got in a war of words over whether former House Majority Leader Eric Cantor's move to Wall Street represents a "revolving door" between Congress and Wall Street.
Cantor was upset this past summer by primary challenger Dave Brat in a race that shocked even the savviest political experts. Since then, he resigned from Congress and taken a job at investment firm Moelis & Co. His new job drew criticism from likely culprits, namely Sen. Elizabeth Warren, who criticized the move in an interview with Yahoo! News' Katie Couric.
In a BusinessInsider op-ed, Weiner said Warren's criticisms are "wrong" and explained why:
"But is Cantor really sprinting through an unseemly 'revolving door?' Well, it is a door and a lucrative one at that. But revolving? If he wants to return to politics, maybe his Wall Street connections will help him raise money for a future campaign, but fund raising has never been a problem for him. Also, going to an investment bank is probably one of the least helpful places to go because of fundraising rules that limit how much those in that industry can donate. And if the implication is that he is going to work in an industry he once regulated, well isn't that true of literally every industry?"
Weiner also disagrees with Warren that people like Cantor would "sell access" to his former colleagues in Congress, saying Congress is, thanks to Eric Cantor, "the absolute last place to turn if you wanted to accomplish something" due to its ineffectiveness, which would deter anyone from the desire to "buy access." Weiner also prefaced that he rarely ever agrees with Cantor, but said "being wrong a lot doesn't mean he isn't an expert on issues."
Sen. Warren wasn't taking too kindly to any of those criticisms, and wrote a dueling op-ed published Wednesday in the Huffington Post.
In it, she said Weiner's dismissal of her concerns was just "business as usual" and argued "the ties between Washington and Wall Street run deep."
But the war of words didn't end there.
Weiner took to Twitter to take some jabs at "his overlords" at BusinessInsider and his "4th favorite senator":
Maybe my overlords at @businessinsider should repost the item that my 4th favorite senator @SenWarren is responding to.

— Anthony Weiner (@anthonyweiner) September 17, 2014
Weiner even asserted Warren didn't even write the op-ed herself:
.@hunterw @SenWarren @MichaelLaRosaDC @jaketapper @jonathanwald @chrislhayes or a google hangout with whoever wrote it for her.

— Anthony Weiner (@anthonyweiner) September 17, 2014
[Images via U.S. Senate/U.S. House]
— —
>> >>Follow Andrew Desiderio (@forza_desiderio) on Twitter
[Note: Mediaite intern Andrew Desiderio is a student at The George Washington University.]
Have a tip we should know? [email protected]