Arianna Huffington To New York Times Mag: What In HuffPost Did You Consider 'Lefty'?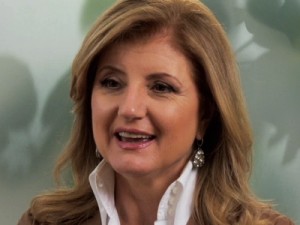 Arianna Huffington sat down with The New York Times Magazine (you will recall, of course, the the NYT's executive editor, Bill Keller, has made it quite clear that he's none to happy with the Huffington Post's method of aggregating content) to discuss pleasant topics like how her father, a former newspaperman, would feel about accusations that her site is responsible for that whole death of print thing we keep reading about in newspapers.
The magazine broached another contentious and persistent criticism the Huffington Post has been contending with since it's inception, and especially in the wake of its deal with Aol:
You've been saying recently that The Huffington Post is not a lefty publication?

Actually I've been saying that for three years. The tag line that we've used a lot is "Beyond left and right."

Three years ago was 2008. I looked at The Huffington Post a great deal during the election. It felt like the Internet version of Keith Olbermann's show, and if that's not lefty. . . .

Why don't you be more specific? What were the messages that you considered lefty?
While Huffington doesn't deny that her site clearly has "progressive views," she believes the term "lefty" misses, as she phrases it, "the whole point that American policy needs to be redefined beyond left and right" – an argument she's repeated the many, many times she's been asked this very question since news of the $315 million Aol deal first broke.
The interview, which seems designed around repeating the string of critiques and accusations Huffington and HuffPost have received over the years, also asked Huffington about a leaked Aol document emphasizing, basically, "pageview fodder." Huffington, no stranger to going after headlines that are particularly sensational and search engine friendly, wisely noted that this document precedes her dealings with Aol.
And then there's this…
I look at your writers much less than I find myself clicking on stuff that's been aggregated or the more salacious, boob-related posts.

That's really a shame. I think you're missing out. Jason Linkins is doing some of the best media writing. Amanda Terkel's coverage of Afghanistan has been ahead of the curve. Shahien Nasiripour has been breaking news constantly on Wall Street reform. Maybe you should be reading more of that and clicking less on the boobs.
While some of Huffington's critics might be clapping in delight over the NYT's decidedly pointed questions, the fact remains that Huffington is no fool and, what's more, these questions, while phrased in such a way that basically ensures the original story will be widely quoted, shared and, yes, aggregated, are nothing new.
The Huffington Post is often made to be whipping boy of sites that feature a mix of aggregated stories, op-ed articles and original reporting because it's so damn successful – and because its founder, while controversial, is terribly charismatic. This isn't to say that HuffPost is either an inherently benevolent or malignant force when it comes the changing nature of online news… but neither is the New York Times, especially where its treatment of Huffington and the Huffington Post are concerned.
Have a tip we should know? tips@mediaite.com