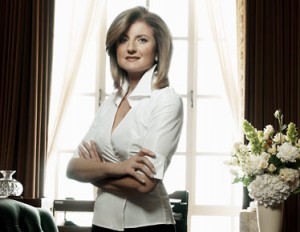 Want to protect yourself from Swine Flu? A deep-cleansing enema might be you best option — that is, if you get your health advice from Arianna Huffington's network of friends/bloggers. According to HuffPo blogger Kim Evans:
[I]t's my understanding that many people who took regular enemas instead of vaccines during the 1918 pandemic made it out on the other side as well … That said, my opinion is that the most effective cleanses involve enemas or colonics to get in there and physically clean out the filth.
This is just one piece of HuffPo "health advice" scrutinized by Salon's Vital Signs columnist Rahul K. Parikh yesterday in "The Huffington Post is crazy about your health." In addition to disapproving of this method of flu prevention ("This is not exactly first-line advice on influenza prevention…Evans' notion contradicts basic germ theory"), he isn't a fan of much else in the way of HuffPo's health content.  Parikh takes a close, critical look at the site's Living section, and notices that:
But when it comes to health and wellness, that diverse forum [HuffPo] seems defined mostly by bloggers who are friends of Huffington or those who mirror her own advocacy of alternative medicine, described in her books and in many magazine profiles of her. Among others, the site has given a forum to Oprah Winfrey's women's health guru, Christiane Northrup, who believes women develop thyroid disease due to an inability to assert themselves; Deepak Chopra, who mashes up medicine and religion into self-help books and PBS infomercials; and countless others pitching cures that range from herbs to blood electrification to ozonated water to energy scans.
Parikh also challenges HuffPo Wellness editor Patricia Fitzgerald, who holds a master's degree in traditional Chinese medicine and a doctorate in homeopathic medicine, for posts approving actress Jenny McCarthy's alternative treatments of her son's autistism — which, Parikh notes, are "all unproven."
This isn't the first time HuffPo's health coverage has been criticized. Seed magazine science blogger "Orac" — the pseudonymous "surgeon/scientiest" who writes the  Respectful Insolence blog —  has excoriated HuffPo frequently in the past for its "pseudoscience" and "quackery," particularly with respect to its anti-vaccine voices on autism (which include, most recently, an anti-vaccine screed by McCarthy's boyfriend Jim Carrey that Parikh points out is riddled with errors) and other dubious claims (such as a post by Evans' claim that antibiotics cause cancer). Concludes Orac: "Certainly, the HuffPo editors seem utterly untroubled that, among physicians and medical scientists, HuffPo is viewed with utter contempt and ridicule."
Salon's Parikh takes a more measured tone, proving his point again and again in the piece with dispassionate analysis, fact-checking and debunking. The rash of inaccuracies he turns up are disturbing not only in and of themselves, but because of what they point to:  that "one of the most valuable pieces of real estate on the Internet" is run not by vetted, qualified experts, but by a cast of characters from Huffington's Rolodex who "appear to be picked by Huffington on a whim." Parikh points out that the authors often have their own agendas to promote and books to peddle, like Evans' Cleaning Up! (2008).
This would not be quite as bad if all the facts were provided. But there, too, HuffPo falls short. In his own critique some HuffPo health articles (including Evans'), Steven Novella of the Science-Based Medicine blog points out:
Readers were not given enough information to make an informed decision about the claims that were being promoted, nor even of the controversial status of the claims. They were also fed demonstrable medical falsehoods and misinformation. This is now what I expect from the Huffington Post …
Nobody expects to read a bunch lies on the Huffington Post, and Arianna should be proud of that expectation. That said, HuffPo needs to cut out the half-baked medical speculation because, frankly, doctors and scientists should be busy with other things besides trying to set the record straight time and again. And if Evans, Fitzgerald and other's posts are meant as discussion starters, maybe HuffPo — "The Internet Newspaper" — or even the real newspaper isn't the right place. After all, people actually read that stuff.
Have a tip we should know? tips@mediaite.com