Arizona Democrats In Uproar As GOP Raffles Same Gun Model Used Against Rep. Giffords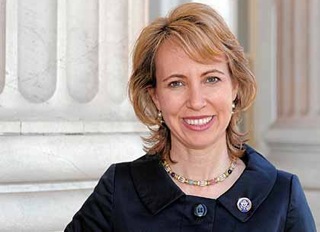 Arizona Democrats are decrying a fundraising event by county Republicans that, while previously somewhat common in the state, Democrats now argue is unnecessarily hurtful to a state still recovering from an act of terrorism that left many dead and severely impaired Rep. Gabrielle Giffords. The Pima County Republican Party is raffling off a copy of the same gun used in the Giffords attack, a prize Democrats are encouraging Republicans to reconsider.
According to CNN, the grand prize in the raffle is a Glock .45, accompanied with its own case and three 12-round magazines and adjustible grips. While it is not unheard of and gun had been raffled by parties in the past, Democratic officials are decrying the move as insensitive. "They could have changed the prize to an iPad or a set of golf clubs or anything that doesn't conjure up images of that day," Democratic county chairman Jeff Rogers argued, suggesting that it was not a Second Amendment issue, but rather making the point that the district had had its Congresswoman almost killed with the weapon too recently in the past for the raffle to be respectful.
Republicans are pushing back with the fact that the raffle is not unprecedented, and, in fact, the brand they are raffling is popular enough to have found itself in the Giffords home:
When pressed on whether the group was worried the raffle might be insensitive, [Pima County Republican Chairman Mike] Shaw pointed to a 2008 article in the Arizona Capitol Times, where Giffords weighed in on the Supreme Court hearing that eventually lifted the gun ban in Washington, D.C. Giffords spokesperson at the time, C.J. Karamargin, told the paper that Giffords, herself, owned a Glock and regarded gun ownership as a constitutional right.
While Rep. Giffords' office declined to comment, the optics of the event will likely not be lost on Democrats, especially those who were quick to remind the media that Rep. Giffords was famously on Sarah Palin's "crosshairs" map, though that was not an entirely uncommon visual metaphor either, even if targeted specifically at the Congresswoman.
Have a tip we should know? tips@mediaite.com