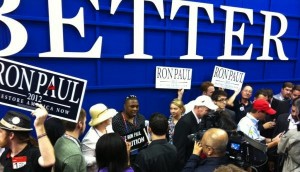 Congressman Ron Paul will not be speaking at the Republican National Convention this week for one very important reason: speakers are required to support the person being nominated, and Paul does not. When the Texas congressman appeared on the floor of the convention in Tampa this week, he was greeted by his most ardent supporters, leading a chant to let Paul speak.
RELATED: Ryan Asks Ron Paul Fans To Choose Between 'Big Government' Obama And 'Economic Freedom' Of Romney
Last week the Romney campaign confirmed that Paul would be getting a video tribute at the convention instead of a speech, and Paul's son, Kentucky senator Rand Paul, will be speaking at the convention this week. But that has not stopped Paul's supporters from loudly voicing their displeasure with how the libertarian congressman is being treated during the week-long event.
Mr. Paul, the Texas libertarian and leader of some of the most disgruntled delegates, walked onto the floor at 2 p.m., just
ahead of the color guard. A smattering of supporters applauded. A group in the rafters also shouted "Liberty" in addition to "Let him speak." But the former rival to Mr. Romney did nothing to egg them on…

The chants… came as the Romney campaign was still trying to put down a grass-roots rebellion against its effort to change arcane party rules that, activists say, would protect "establishment'' presidential candidates from insurgent challengers.
According to Talking Points Memo, Romney supporters attempted to fight back by chanting "Romney," but they were drowned out by the Paul supporters. Paul told NBC News that he came to the floor to "say… hi to some friends from Nevada."
—–
Follow Josh Feldman on Twitter: @feldmaniac
Have a tip we should know? tips@mediaite.com
Josh Feldman - Senior Editor