Beck Regrets Calling Palin a 'Clown,' but Bashes Her 'Love Affair' with Trump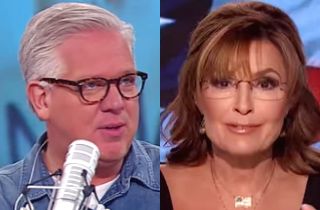 Yesterday some conservative tension came bubbling to the surface when Glenn Beck went off on Sarah Palin. Beck appeared at the big anti-Iran deal rally on Wednesday, along with Palin and Donald Trump. And in reaction to her speech, Beck said, "Sarah Palin has become a clown. I'm embarrassed that I was once for Sarah Palin."
At issue here is mainly Palin's support for Trump, someone that Beck really cannot stand.
Well, since his Palin comments really stirred things up online, Beck took to Facebook last night to explain his frustrations and to apologize for using the word "clown."
He brought up Palin's recent Trump interview and said he was "stunned" by how much she agrees with him and "backs him." He said, "I have seen her speak many times about many topics and I just don't understand her."
Beck's particularly disturbed by Palin's support of Trump––someone he describes as "a bully, sexist, cruel, an ego manic and narcissist in ways that makes Barack Obama seem like Saint Francis"––because of the influence she holds in the tea party and conservative movement.
Hearing Palin's speech right after Trump's got Beck really angry:
It was Coupled with total confusion on her love affair with Donald Trump (made worse in my head by my lack of ability to grasp what 30% of small government Self proclaimed constitutionalist, values and religious people see in him.
Coupled with His speech and combining hers with his in my head,
coupled with my unwillingness to play the stupid "game" one second longer — because I truly believe that we are at a point of choosing and the consequences are much more grave than ever before as God will not be mocked.
Beck elaborated on his radio show this morning. You can listen here, via BlazeTV:
[image via screengrab]
— —
Follow Josh Feldman on Twitter: @feldmaniac
Have a tip we should know? tips@mediaite.com
Josh Feldman - Senior Editor