Ben Carson: Conservatives Avoiding Racism Talk over Charleston Out of 'Fear'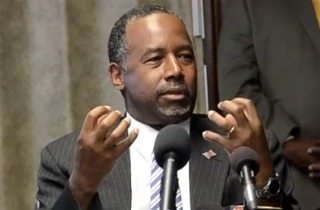 Ben Carson took a pretty clear swipe at certain Republican presidential rivals today on how they've been dancing around the racism factor in the Charleston shooting.
Last week, Carson reacted to the shooting by calling for unity and saying "racial based hate is still very much alive." But other GOP candidates made comments seemingly downplaying the clear racial aspect of the shooting of nine people in a black church.
Carson leads his USA Today op-ed today by saying, "Not everything is about race in this country. But when it is about race, then it just is."
"If this were a medical disease, and all the doctors recognized the symptoms but refused to make the diagnosis for fear of offending the patient, we could call it madness," Carson wrote. "But there are people who are claiming that they can lead this country who dare not call this tragedy an act of racism, a hate crime, for fear of offending a particular segment of the electorate."
There are links there to comments from Jeb Bush and Lindsey Graham on Charleston (linked above in this post), as well as one to a Wall Street Journal editorial saying, "Today the system and philosophy of institutionalized racism identified by Dr. King no longer exists."
And Carson agrees that progress has been made, but said it's important to confront racism when it's right there:
Let's not delude ourselves here. The stakes are too high. If we do not do something as a people to directly address the divisions caused by this sickness, we risk losing all of the ground we have made as a country over the past 50 years. And certainly the youth will take cues from their leaders. If we teach them it is OK to deny racism exists, even when it's plainly staring them in the face, then we will perpetuate this sickness into the next generation and the next.
Update- 3:05 pm EST: A note of clarification:
@feldmaniac FTR: Links in Carson column are an artifact of the fact-checking process at USA TODAY, not the author's views.

— David Mastio (@DavidMastio) June 22, 2015
[image via screengrab]
— —
Follow Josh Feldman on Twitter: @feldmaniac
Have a tip we should know? tips@mediaite.com
Josh Feldman - Senior Editor