Ben Shapiro Reacts to Mark Duplass' Apology For Tweet Praising Him: 'I Feel Bad For The Guy'
On Thursday night, Ben Shapiro reacted to the apology issued by actor Mark Duplass after receiving blowback for a tweet that praised the conservative commentator.
Yesterday, Duplass suggested that his followers check out Shapiro with the following tweet (which he has since deleted):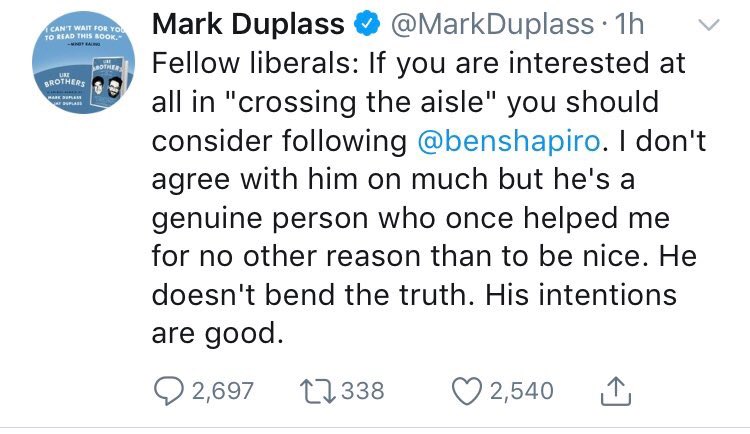 The next day, Duplass issued this lengthy apology.
— Mark Duplass (@MarkDuplass) July 19, 2018
Shapiro began by calling Duplass a "nice guy" and explained that the one time he helped the actor was when he helped him with a project on gun control and gave him his pro-Second Amendment perspective on the issue, adding that his tweet praising him was "unsolicited."
"Just as we have seen many, many times, the mob mentality rules on Twitter and he promptly deleted that tweet after probably an hour or two," Shapiro told Fox News anchor Martha MacCallum. "And then this morning, he put up a full apology. That was after I texted him last night, by the way, and told him that I didn't mind that he deleted the tweet considering he still has to work in this town and Hollywood isn't fond of people who are friendly with anyone across the aisle. He put up a full apology for ever having suggested that I was a nice person who had views worth listening to, so that was wonderful…"
The Daily Wire editor-in-chief called it "amazing" that in 24 hours, he went from being a "nice guy with good intentions" to a "racist, sexist, bigoted homophobe," which he said he was "getting a little bit use to" since "everybody on the left" thinks that everyone who is not on the left "is a racist, sexist, bigoted homophobe." He also told MacCallum that he urges his employees to not take photos with celebrities who visit their office since being associated with him could hurt their careers.
"I don't blame Duplass for pulling down the tweet. I didn't ask him to make the nice tweet in the first place," Shapiro added. "I feel bad for the guy, honestly. He's sort of stuck between a rock and hard place and that he made a decent statement, everybody on the left came down on him and he still wants to work in the town."
Watch the clip above, via Fox News.
Have a tip we should know? tips@mediaite.com