Benghazi Committee Dems Release Interview Transcripts In Response to McCarthy's Comments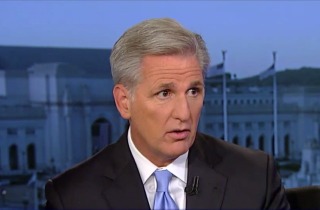 Democrats on the House Select Committee on Benghazi released on Monday excerpts of a testimony by a former top aide to Hillary Clinton, a move meant to defy Republicans on the panel in an effort to "correct the public record after numerous inaccurate Republican leaks."
In a letter to the committee's chairman, Rep. Trey Gowdy (R-S.C.), the Democrats pledged to release even more interview transcripts, and directly referenced House Majority Leader Kevin McCarthy's (R-CA) comments last week in which the likely soon-to-be House Speaker connected the committee's work to Clinton's falling poll numbers in the Democratic presidential race, suggesting one was designed to cause the other. Democrats viewed that as an admission of guilt and a reinforcement of their long-standing criticism of the committee since it was established last year — that it was designed with the intention of damaging Clinton's White House bid.
"Obviously, this is an unethical abuse of millions of taxpayer dollars and a crass assault on the memories of the four Americans who were killed in Benghazi," the Democrats wrote, calling the investigation into the 2012 terrorist attack costly and unproductive.
The full transcript of the committee's interview with Clinton's former chief of staff, Cheryl Mills, will be released at the end of the week. According to the Democrats, the only way to correct "previously debunked allegations" is to release the complete, unedited transcript, excerpts of which were outlined in their letter. In one portion of the transcript, Mills corroborates the findings of the Accountability Review Board (ARB) investigation into the government's response to the attack.
"Republicans have never disclosed any of this information from the interview of Ms. Mills to the public because it directly contradicts their political narrative," they wrote, asking GOP members to notify them within five days of any excerpts that should be redacted before the full document is disclosed.
McCarthy later walked back his remarks on the committee's intentions, but not before a few days of intense scrutiny from politicians on both sides of the aisle. After speculation that Democrats on the committee would boycott future hearings, Ranking Member Elijah Cummings (D-MD) said they would continue to attend the panel's proceedings in order to "defend the truth" from Republicans' "political attacks" on Clinton.
Read the full letter here.
UPDATE — 4:45 p.m. ET: The committee's communications director, Jamal Ware, released the following statement in response to the Democrats' letter, in which he accused them of engaging in a "nakedly political" act that violates House rules:
"The Committee has not released transcripts from witness interviews for myriad reasons, including the need to hear from all witnesses and gather all facts before drawing inferences or conclusions from those interviews, and the need to avoid tainting the recollections of future witnesses. The Attorney General today confirmed the wisdom of this approach when she criticized improper public discussion of the FBI's investigation into Secretary Clinton's unusual email arrangement. Serious investigations hear from all witnesses and the testimony of each witness should be viewed in the context of all available information. 

"By selectively leaking and spinning parts of Secretary Clinton's top aide Cheryl Mills' transcript, Democrats have shown their nakedly political motivation, willingness to violate the letter and spirit of House Rules, and their desire to defend Secretary Clinton without regard for the integrity of the investigation. Most Democrats on the Benghazi Committee have endorsed Clinton and they are now running a protection effort for the former Secretary. Of the 50,000 documents to which the Committee has gained access, Democrats were interested in zero. Of the 41 new witnesses interviewed, Democrats suggested zero. It is one thing to merely sit idly by while others do serious work, it is quite another to attempt to undercut that work with selective leaks in violation of House Rules."
Ware added that Mills, after her testimony, thanked the committee for treating her with "professionalism and respect throughout the process."
[Image via screengrab]
— —
>>Follow Andrew Desiderio (@desiderioDC) on Twitter
Have a tip we should know? tips@mediaite.com