Big Four Broadcast Networks Will Reportedly Air Comey Testimony Live (UPDATE)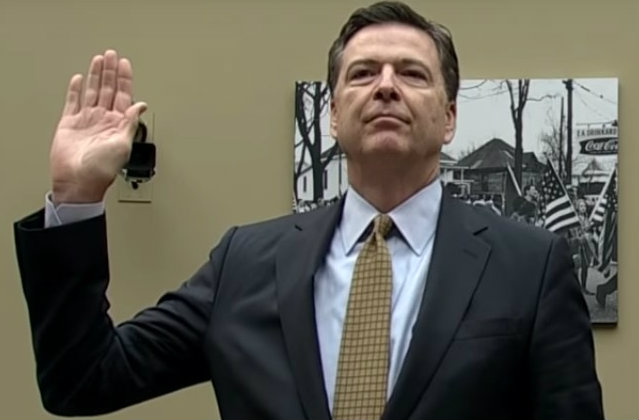 Throughout the day on Monday, CNN has been promoting the Thursday testimony of former FBI Director James Comey before the Senate Intelligence Committee — one of the most anticipated Congressional testimony sessions in decades.
Turns out they'll have some competition.
According to CNN's Brian Stelter, all four broadcast networks will take the extraordinary step of pre-empting their regular programming in order to air Comey's testimony Thursday morning. Stelter says that only NBC has yet to confirm that they'll jettison their normal programming in favor of Comey. But the CNN media reporter reports through a source that they will indeed follow their peers and carry the Comey testimony.
CBS, ABC, Fox broadcast networks will all carry Comey live. Source says NBC will as well, but the network isn't confirming that yet. https://t.co/GQc3LPsLjd

— Brian Stelter (@brianstelter) June 5, 2017
This is the first that Comey is speaking publicly since his firing on May 9. It is also the first time he's speaking publicly since the report that emerged that he kept a memo of a conversation in which he claims President Donald Trump asked him to back off of an investigation of former National Security Advisor Mike Flynn.
All this leads to the news that's sure to disappoint Plinko fans, and captivate just about everybody else: the networks are going live with Comey on Thursday.
[image via screengrab]
UPDATE TUESDAY JUNE 6 9:15 A.M. ET — NBC News has reached out to Mediaite and confirmed Stelter's reporting. They are indeed going live with Comey, and they're going big: Lester Holt, Savannah Guthrie, and Chuck Todd will anchor the network's coverage live from Washington starting at 10:00 a.m. ET Thursday.
——
Follow Joe DePaolo (@joe_depaolo) on Twitter
Have a tip we should know? tips@mediaite.com
Joe DePaolo - Senior Editor