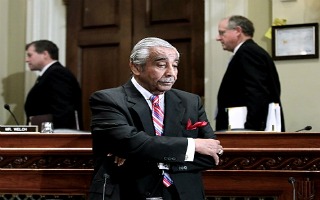 Rep. Charlie Rangel (D-NY) is seeking a 22nd term in the House of Representatives, but he will not be receiving any support from former President Bill Clinton this year. A report in the New York Post on Friday reveals that Clinton will be sitting this cycle out and will not be making an endorsement in New York's 15th congressional district's Democratic primary.

RELATED: Book Alleges Bill Clinton Called Obama An 'Amateur,' 'Incompetent' And Begged Hillary To Run Again
The Post reports that Rangel will face voters in his district without Clinton's support, which proved critical in his last reelection effort:
Clinton strongly backed Rangel's re-election in 2010 when the incumbent was under fire for House ethics-rules violations that later led to a congressional censure.
Rangel faced a stiff challenge in 2010 from Adam Clayton Powell IV, grandson of Rep. Adam Clayton Powell Jr. – who Rangel defeated in 1970 after he had served eight terms in the House representing Harlem.
Rangel narrowly defeated Powell in 2010 with 50 percent to 24 percent, but polls of the district ahead of the primary showed Rangel would win 60 percent of the vote.
Rangel has been a staunch supporter of the Clintons – backing them publically during President Clinton's impeachment proceedings and supporting then Sen. Hillary Clinton's presidential bid over Barack Obama.
The Post reports that one of Rangel's opponents is a former aide with the Harlem-based Clinton Foundation, Clyde Williams. Rangel faces another challenge from a New York state Senator:
Meanwhile, former Bronx Borough President Adolfo Carríon yesterday endorsed another Rangel opponent, state Sen. Adriano Espaillat. Carríon, who is considering a run for mayor and has praised Rangel's tenure, said it's time for a change.
The local Democratic party's inability to back a single candidate to face Rangel in the upcoming primary helped him narrowly win reelection in 2010. That same phenomenon could help sustain his political career this time around as well.
h/t New York Post
Have a tip we should know? tips@mediaite.com